- Thoughts and impressions of the new Nike SB Chunky Dunky -
Finally the rumors are confirmed of what is slated to be this summer's funkiest release from Nike SB - Introducing the Chunky Dunky Ben & Jerry's collaboration Dunk Low - Here's my initial thoughts: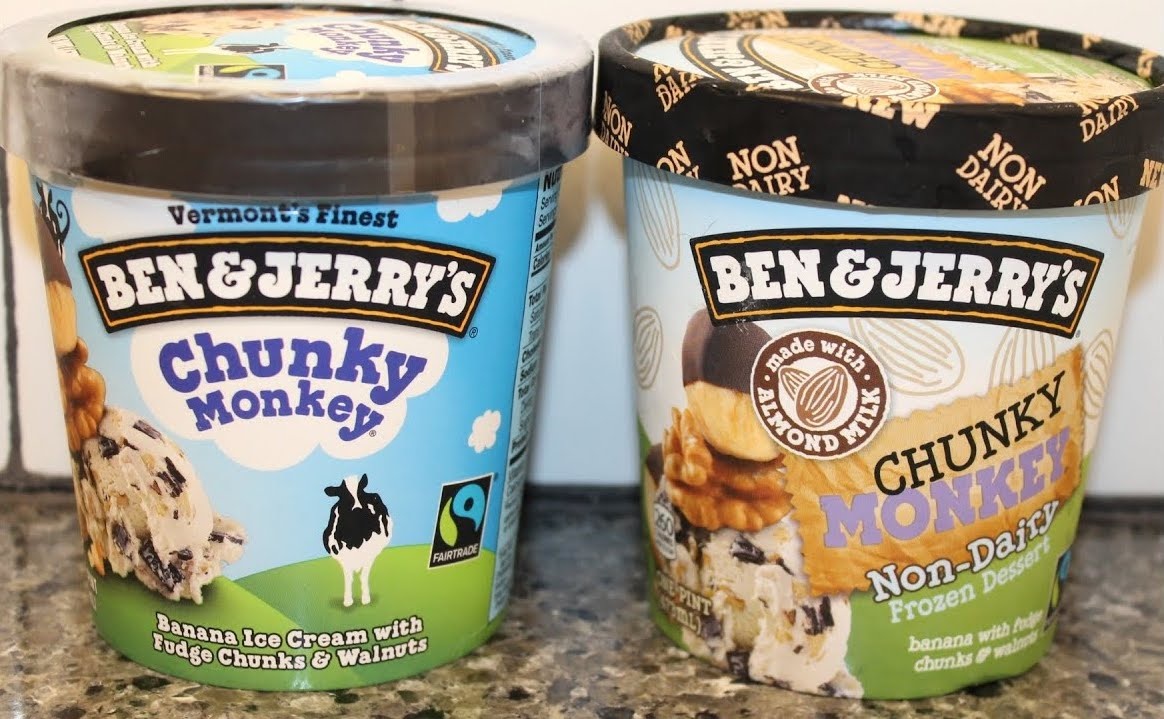 Munching down on the beloved Chunky Monkey pint on a hot summer day has been one of my favorite past times since I can remember, so how fitting is this new release for collectors who enjoy the same? If you were to pull genetics from an acid trip and blended them with some Chunky Monkey ice cream, this shoe would be the sh*t that gets birthed. 
And if you didn't know, this drop falls on Ben & Jerry's 42nd anniversary - The company was founded May 5th, 1978 - quite the accomplishment for a couple dudes making homemade ice cream in Vermont out of a renovated gas station.
*Tilts the hat brim in humble admiration*
Back to the sneaker.
Do they match everything because they don't match anything? Yes. Do they draw every bit of attention away from the rest of your outfit? Of course. Do we love these shoes for these reasons specifically? You bet your britches, homie. If ever there was a shoe that tells a story, this is it. And how impressive of SB to drop a Dunk collaboration with Ben & Jerry's; like where the heck did that idea come from and thank you so much for making it a reality. But Nike is known as a brand that tells a story through their designs, so I suppose this just makes perfect sense.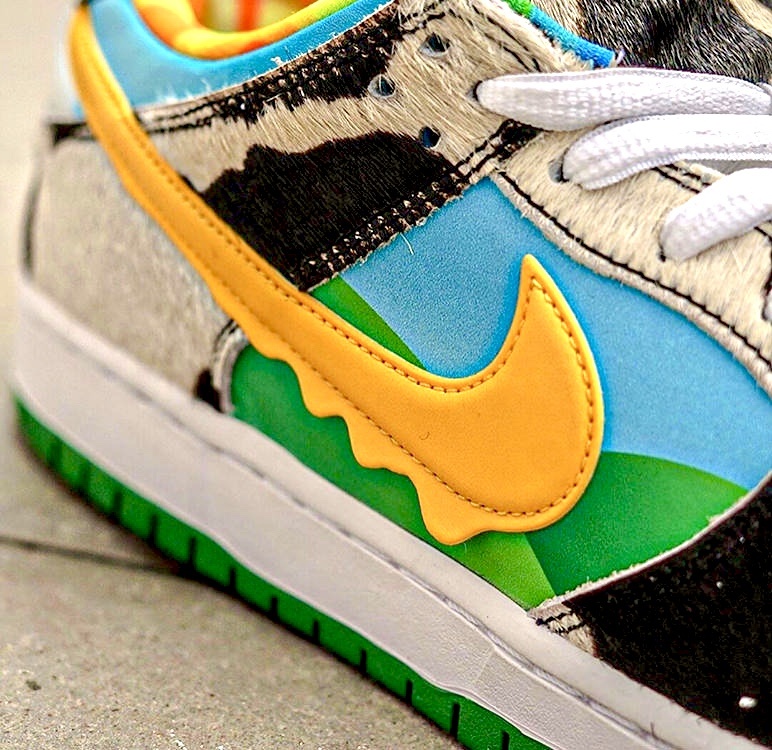 It's all in the details with the Chunky Dunky SB Low - boasting a broad mix of colors and textures, the Ben & Jerry's vibe hits hard with the faux fur on the tongue and sides of the sneaker. It's more than just a look, though. The feel of the faux fur adds a serious tactile punch to this sneaker - You'll find the valley scene pulled directly from the pint design in the background of the shoe wall, really bringing out the yellow melting check featured prominently where it belongs across the outside walls of each shoe. But this is no ordinary swoosh, my friend.
I've seen it with other drops, like the Oski Shark Dunk High, the Travis Scott Jordan Retro 1 High (and low) - but it's very rare -
Nike has altered the classic swoosh for this Chunky Dunky - Something that really sets it apart for me. Since we really don't get this type of treatment with an altered swoosh often, I am more drawn to these types of releases as they tend to stand out in terms of how unique the construction is. This model features a swoosh that appears to be melting, much like my pint of Chunky Monkey ice cream on a hot summer day. Well done, Nike storytellers.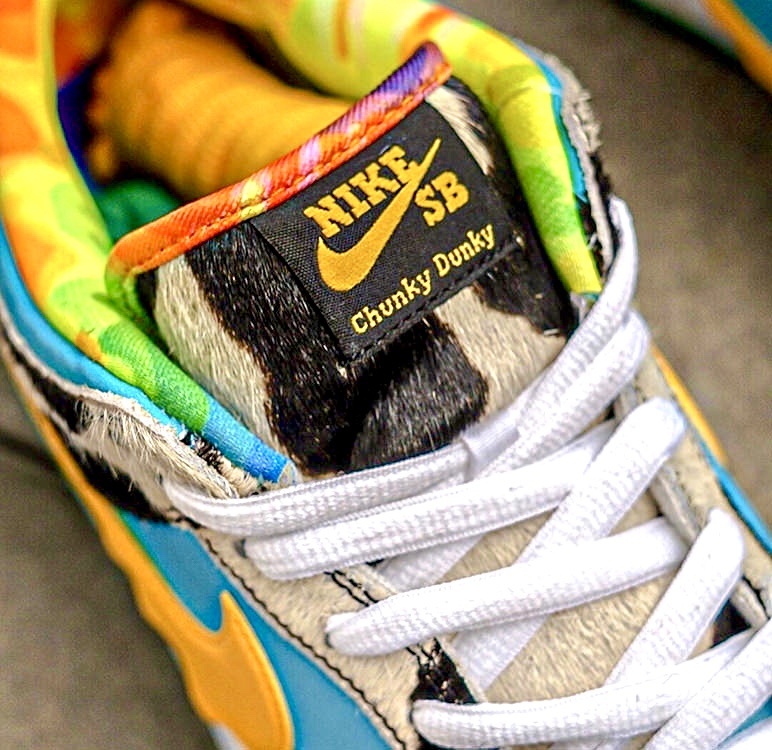 You can almost taste that sweet chunky goodness just looking at these Dunks - 
Not sure what flavor to go with? This drop comes with a total of 3 sets of laces, so mixing and matching colors really allows for expressive combos. I plan to slide those extra set of green ones into my safaris just to see how that'll go.
The guts of the shoe feature a tyedye pattern, explosive with color from every inch of the spectrum, just in case you forget how wild these are. 
Overall I love the mix of colors and textures, but that altered swoosh drives it home for me. There doesn't feel to be any expense spared on making this one of the most unique releases I have seen yet.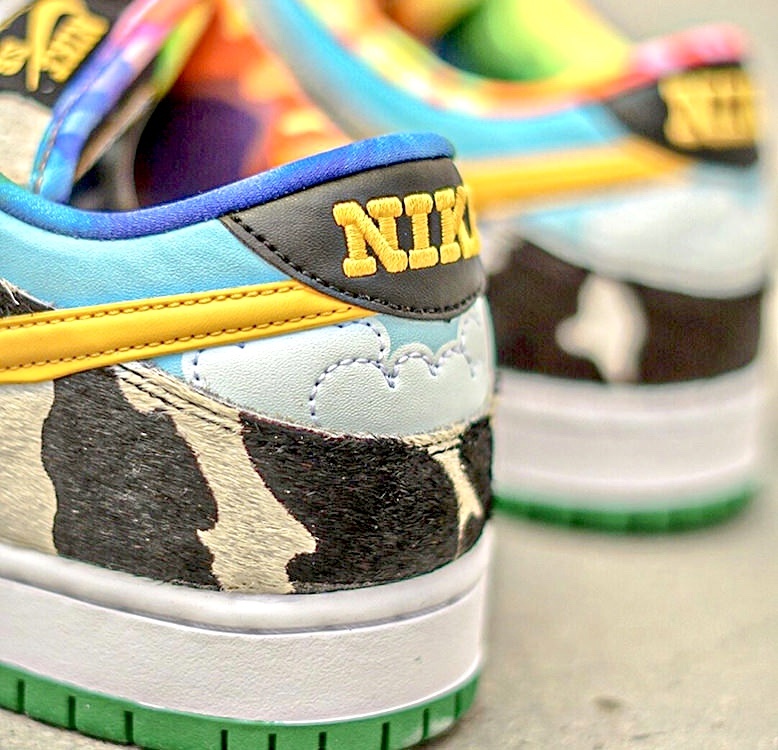 Check out these clouds at the heel, outlined with some extremely detailed stitching and a nice chunky Nike text logo dialed in at the back.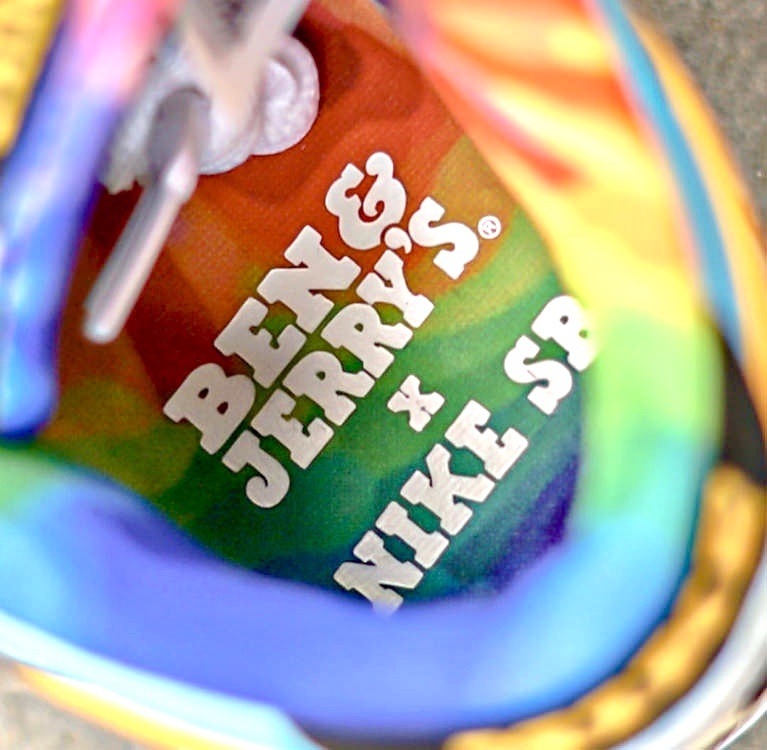 Will you be one of the lucky collectors to score a pair? Tag our shop in your flex so we can see how you are wearing them under our account @drifthouseskate - just don't melt real ice cream on them by accident while you set up that shot.