The All-new Frogman G-Shock GWFA1000-1A
Most of my blogs recently have been about sneakers, which I love, but now my tech nerd side gets to spread its wings a little to the tune of an extremely badass Dive-focused watch known as the Frogman from the homies at G-Shock. A little history on me, just in case you were curious - 
I have been a watch collector for some time now, before sneakers I was into watches pretty heavily - buying and selling and hanging on to specific pieces that had meaning to me over the years. My collection is nothing crazy, but I have a few watches in my rotation. My daily wear is a TAG Heuer Aquaracer Calibre 5 Automatic, but I have a few G-Shocks, Nixons, Vestals, Rip Curls, a retro Quiksilver and an heirloom Breitling timepiece that rarely comes out.
In my free time I live in the water, having grown up around the ocean, there's very few places I'd rather be than the perfect silence of the ocean floor, or exploring the caverns of Florida's natural springs. I received my FII Freedivers Level 1 certification back in 2018, stoked to have reached 74 feet. I have mad respect for people who can push beyond that to the 100+ depths, that's for sure. The risk is insane.
So when the GWFA1000-1A dropped in I couldn't help but nerd out a little on what this watch essentially was. G-Shock has made a name for itself as a top contender for durability at a price point anyone can get into, and we stock G-Shock watches as low as $65 USD all the way up to $1,000 USD a piece.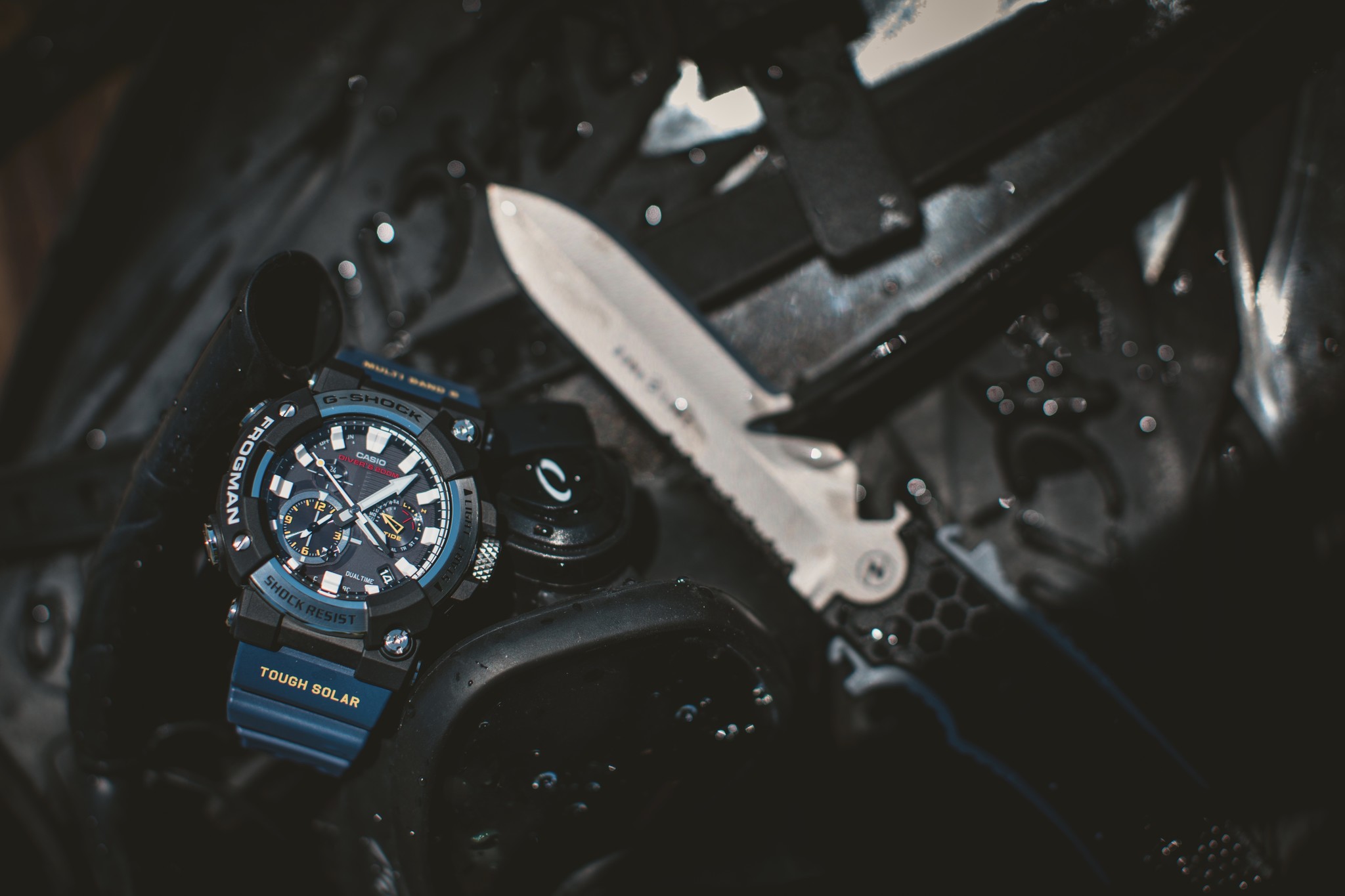 First things first, what makes a watch a 'good' dive watch? If a watch says resistant to 30M does that mean I can take it snorkeling, since technically that's 90 Feet, right? Well in a nutshell, no. Watches are rated at pressure for those depths, one time. And then they are released us - A watch with a rating of 30M is great for general wear, rocking it on date night or washing your hands free of last night's bad decisions. But this does not mean it is meant for long term water use, just the occasional hand wash. For a watch to be safely used on descent, it must meet some basic requirements, which in this Frogman's case is the rating of ISO 6425 200M. You're excited to learn what that means, yeah? Oh good.

These watches are immersed much longer than your standard test, and are testing under 125% of the timepieces rated water pressure, for 2 hours straight. This means that for this watch being labeled 200M water resistance, it's actually tested to 250M - this will guarantee you won't have any issues meeting the needs of a 200M dive with this timepiece, as it is actually rated to 250M. G-Shock's team of Lawyers love this rating scale. The watch must not allow even a single bit of water entry, including condensation. These watches are tested in saltwater for 24 hours, followed up by a functionality test. These tests ensure that a watch labeled for use with divers will live up to its word and keep us safe while we push the limits of exploration and descent.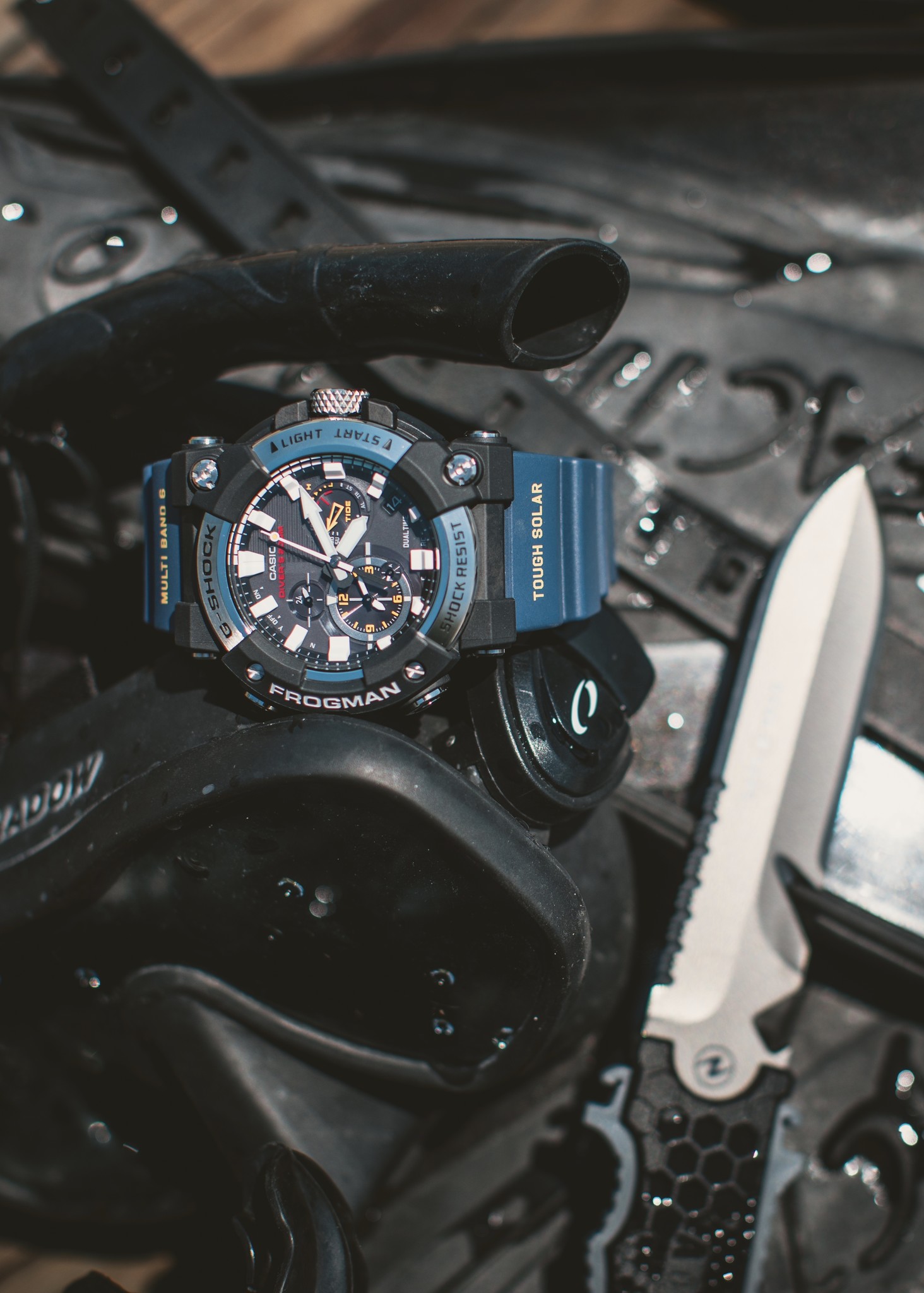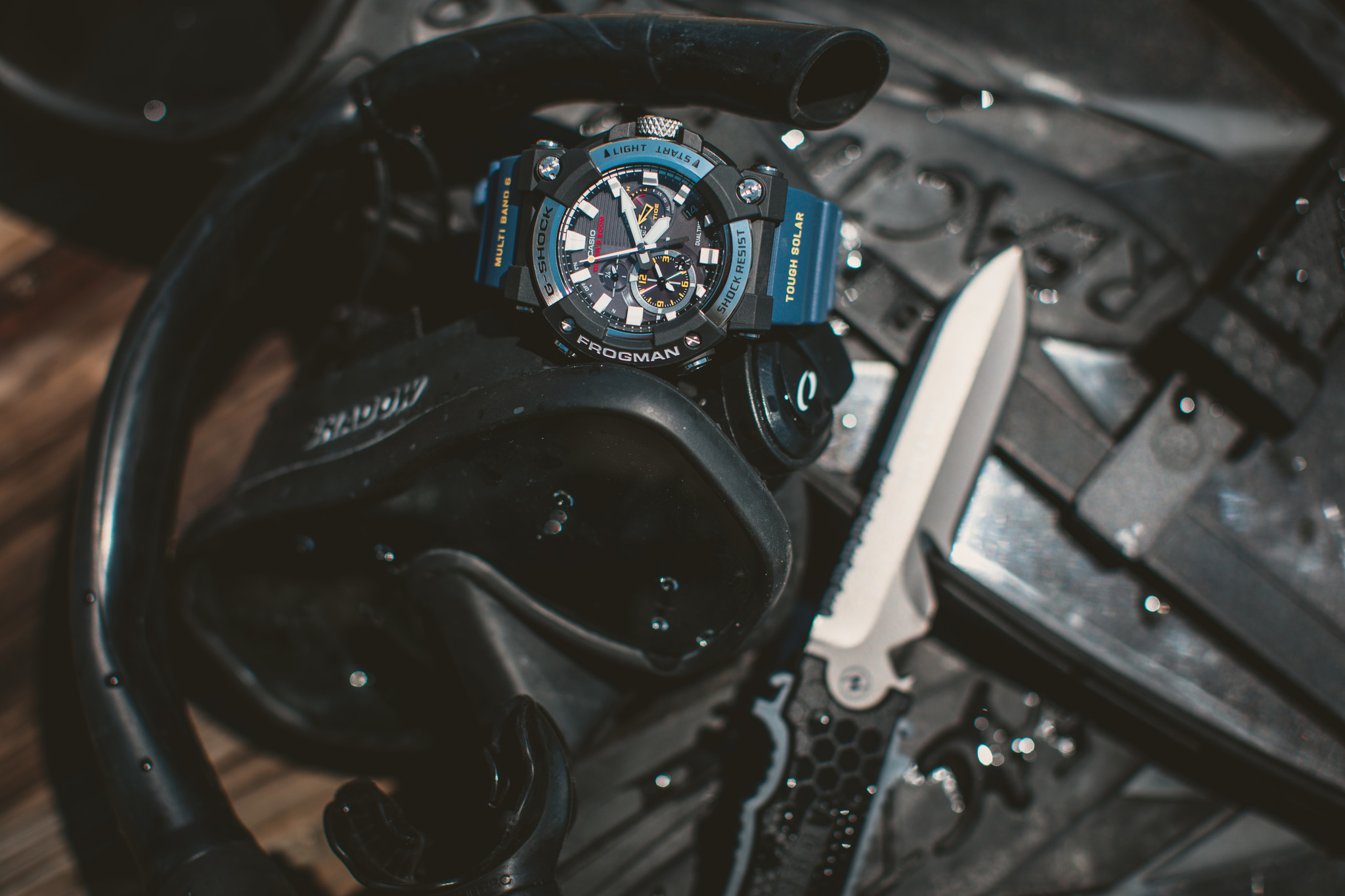 Now for the Frogman itself - 
This watch is immediately recognizable as a G-Shock by Casio in the exterior construction - an extremely pronounced bezel with exposed lugs, textured oversized crown for easy operation even with gloves on, and that overly large text around the bezel to identify which buttons operate which functions - couple that with the large hour indicators, a magnified sapphire glass face with an anti-reflective coating, bold hour and minute hands, and you've got a seriously defined watch on your wrist. Pretty sure I could hold this up to the sky and an airline pilot could read it from their cabin while cruising by. I love the in-your-face functionality of this watch, and many other G-Shock watches. They get the job done, and they look badass doing it.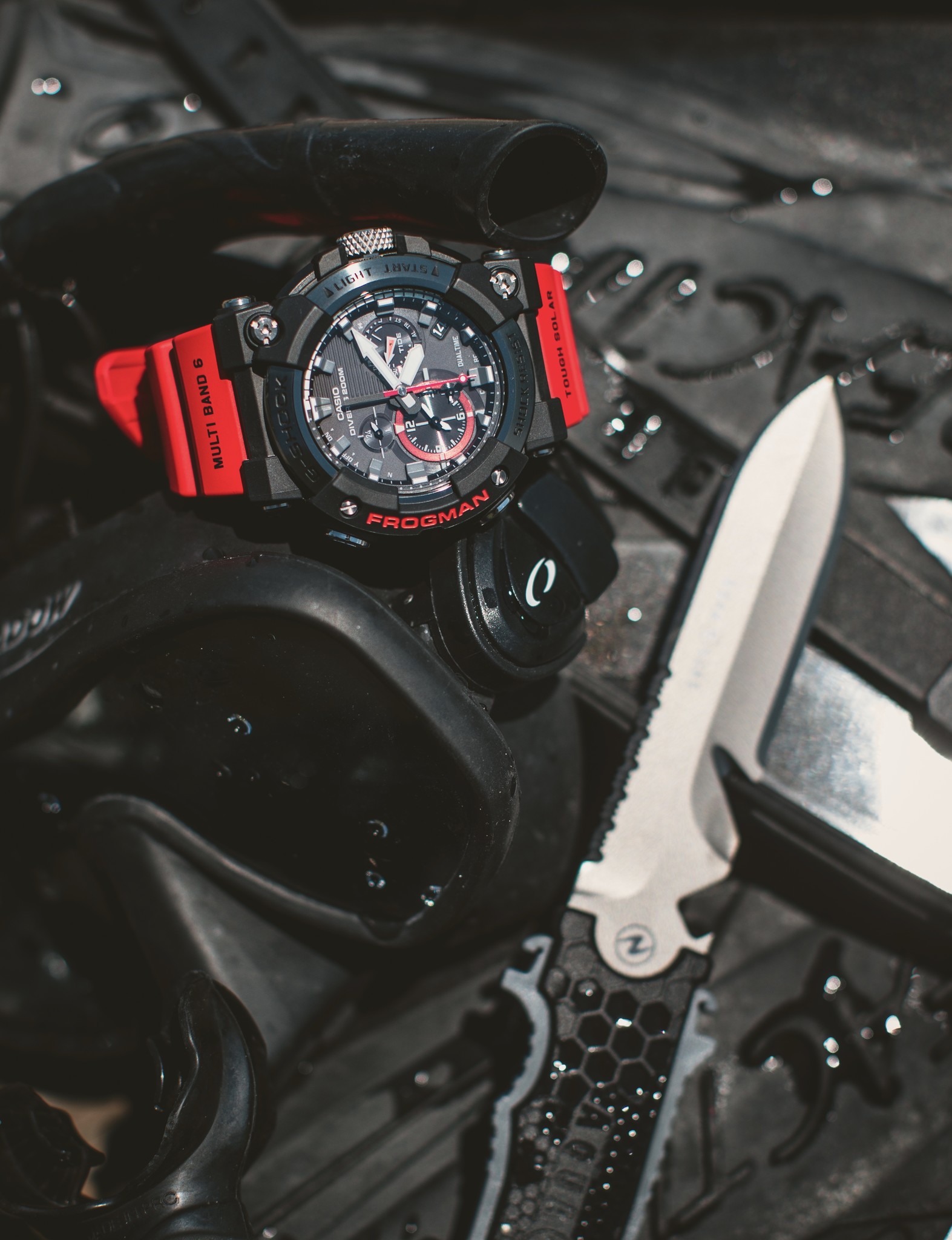 The face shows home time, dual time, tide information (which can be accessed in over 3,000 locations worldwide, HOT DAMN YO!) as well as dive time measurements in analog formatting - This piece in particular has G-Shocks carbon monocoque casing(!), which helps it stand up to anything you can throw at it, while remaining insanely lightweight. You can barely feel it on your wrist (which at first I wasn't too keen on, because typically I relate weight to integrity) but rest assured it'll take a beating. The case back and cover are a single unit, with carbon fiber reinforced resin which means a higher level of water resistance and more strength overall. 
Probably my favorite feature of this watch is its Always Connected Bluetooth system that allows the user to configure the watch from a smartphone app - take that Apple! Literally anywhere you go in the world, you can hit your app and make changes to your time settings, tide functions, and more. And you don't look like you're wearing a smart watch, which I love. You have the ability to log diving records in the app, as well as manage measurement data more efficiently this way. Rejoice, nerds, we can log our data in an app and look badass at the same time.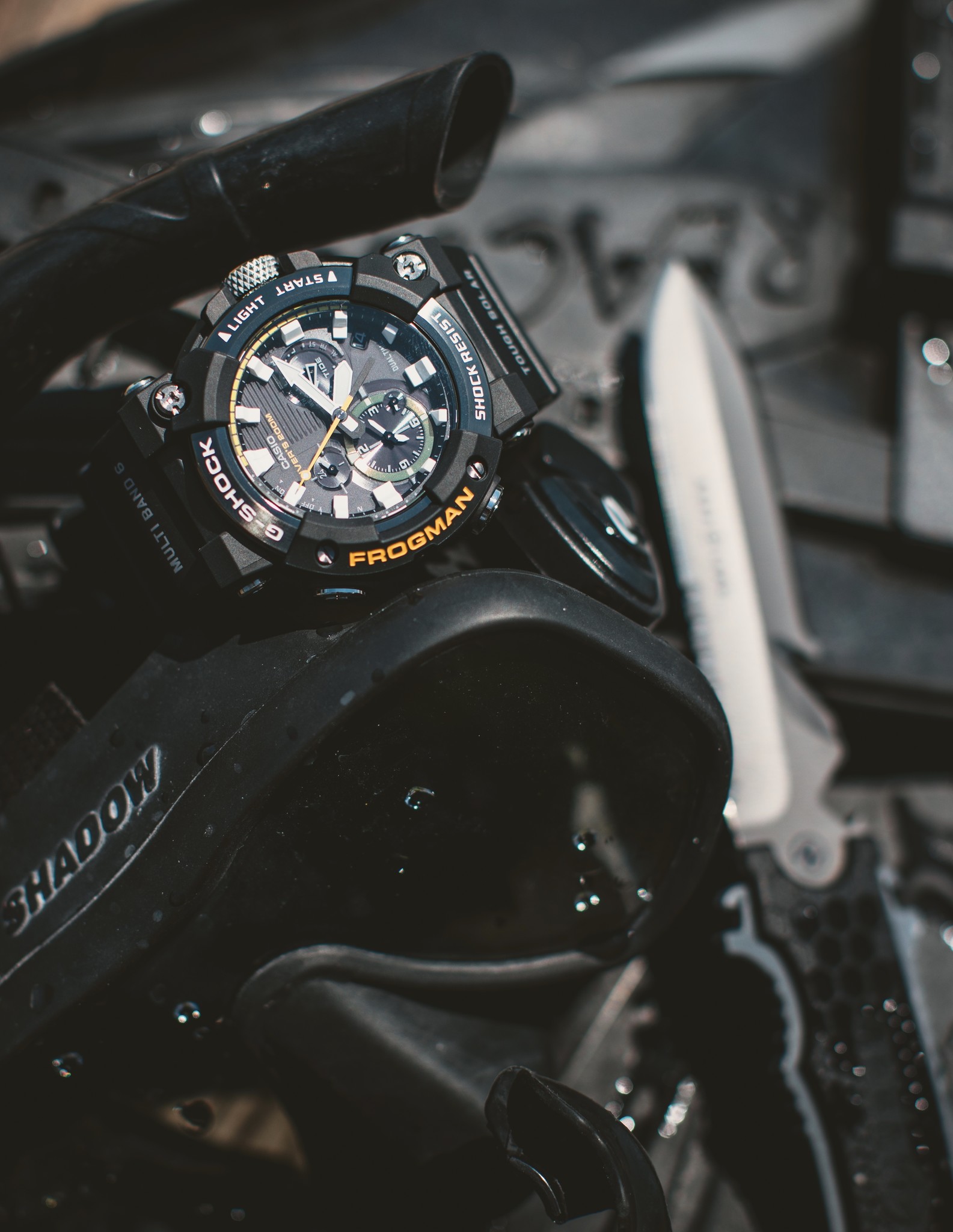 The battery on this watch will probably last longer than you care to know, as it has a solar powered backup - the more you wear it out, the longer it will last. You could set this next to a window when you aren't using it, and it'll charge up for you. It calibrates up to 6 times a day, ensuring your time keeping is as accurate as possible, syncing to the German DCF77 time signal via your bluetooth connection on your phone. Oh, hell yes.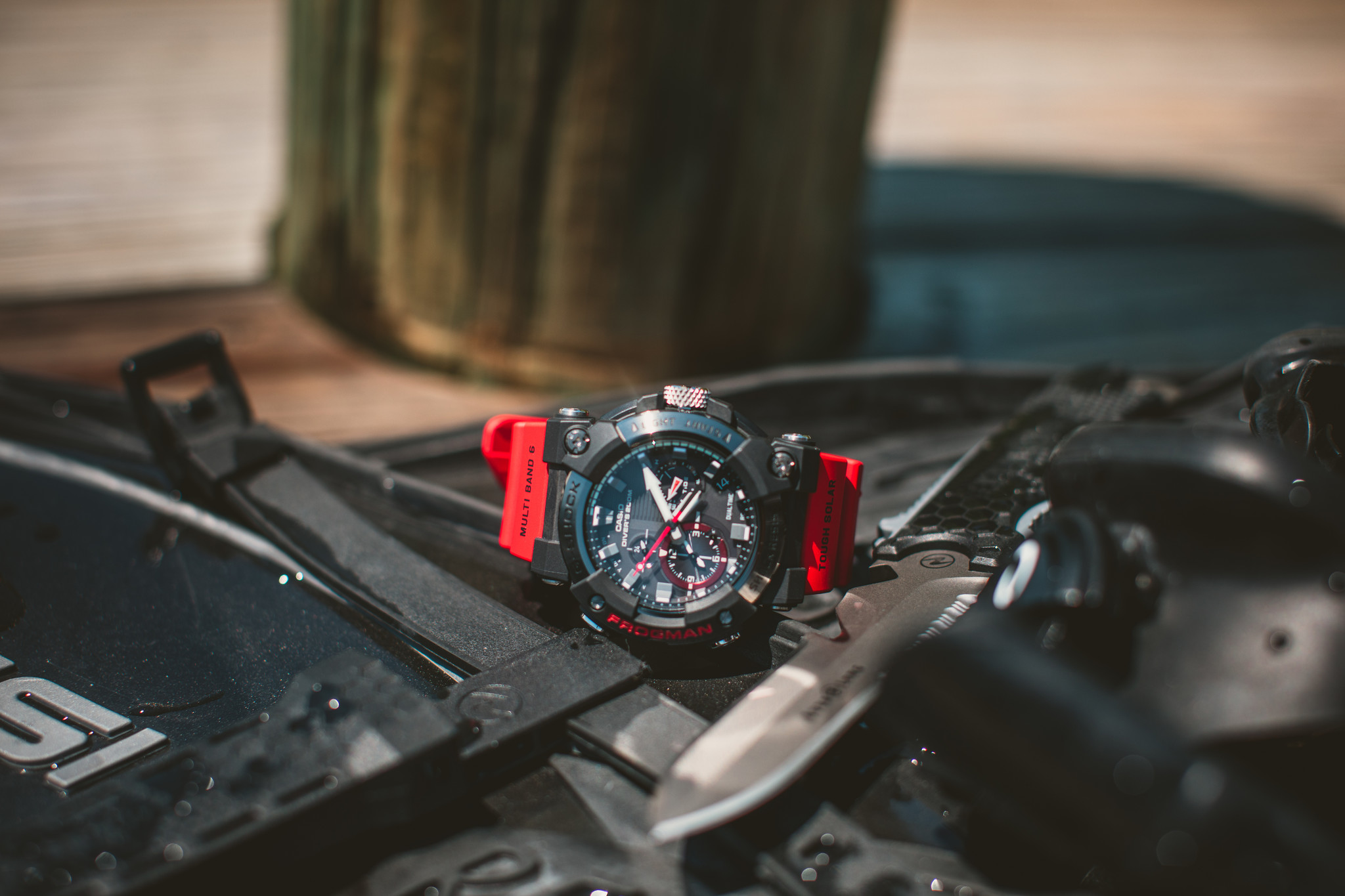 With availability in three different colors, Black, Navy, & Red, you're sure to find one that fits your lifestyle and needs. Price comes in at $800 USD, and includes a 12 Month warranty. Where would you go with a watch like this? Does this represent a lifestyle you live? Leave some of your thoughts in a comment below, and let us know! Of course, make sure you follow along with the Drift House story @drifthousesurfshop and @drifthouseskate for all new releases!