Dive into the new Blazer Low Pro GT release that just dropped, featuring in depth photos and some more info on the man himself, Grant Taylor.
What do you get when you mix the DNA of a professional skateboarder with an all terrain 6 wheel truck that is capable of traversing even the gnarliest of terrain? No, not a terminator robot, but pretty close - you get Grant Taylor, of course.
Born the son of the legendary skater Thomas Taylor on Halloween Eve in 1991 (Maybe that's why he's so freakishly talented?), Grant had already been given the gift of some serious DNA overload - almost like being bit by a spider and turning into Spiderman, Grant's gift seems almost otherworldly in the same way. Obviously, he has worked his ass off to get where he is today, ranking in the top percentage of skaters the world has ever seen. Hands down the most versatile rider, his ability to skate street, transition, and everything in between is second to none.
Born in Atlanta, Georgia, it didn't take long for industry leaders to take note of Grant's incredible ability to lay down some heat on a skateboard. Quickly picked up by Volcom and Spitfire, Grant has added a plethora of sponsors during his career including Monster Energy, Anti-Hero, Independent, Shake Junt, Modus, Nike SB and of course the shop he literally grew up in, Stratosphere. 
So what type of shoe would this caliber of skater release in todays modern world? The updated version of Nike's very first basketball shoe, no doubt! Recognized as Grants favorite shoe, the skate-focused version of the Blazer series is admiringly named the Blazer GT, as an ode to Grant Taylor. In this newest release, we find some awesome updates to the materials, general construction, and an incredible new color way.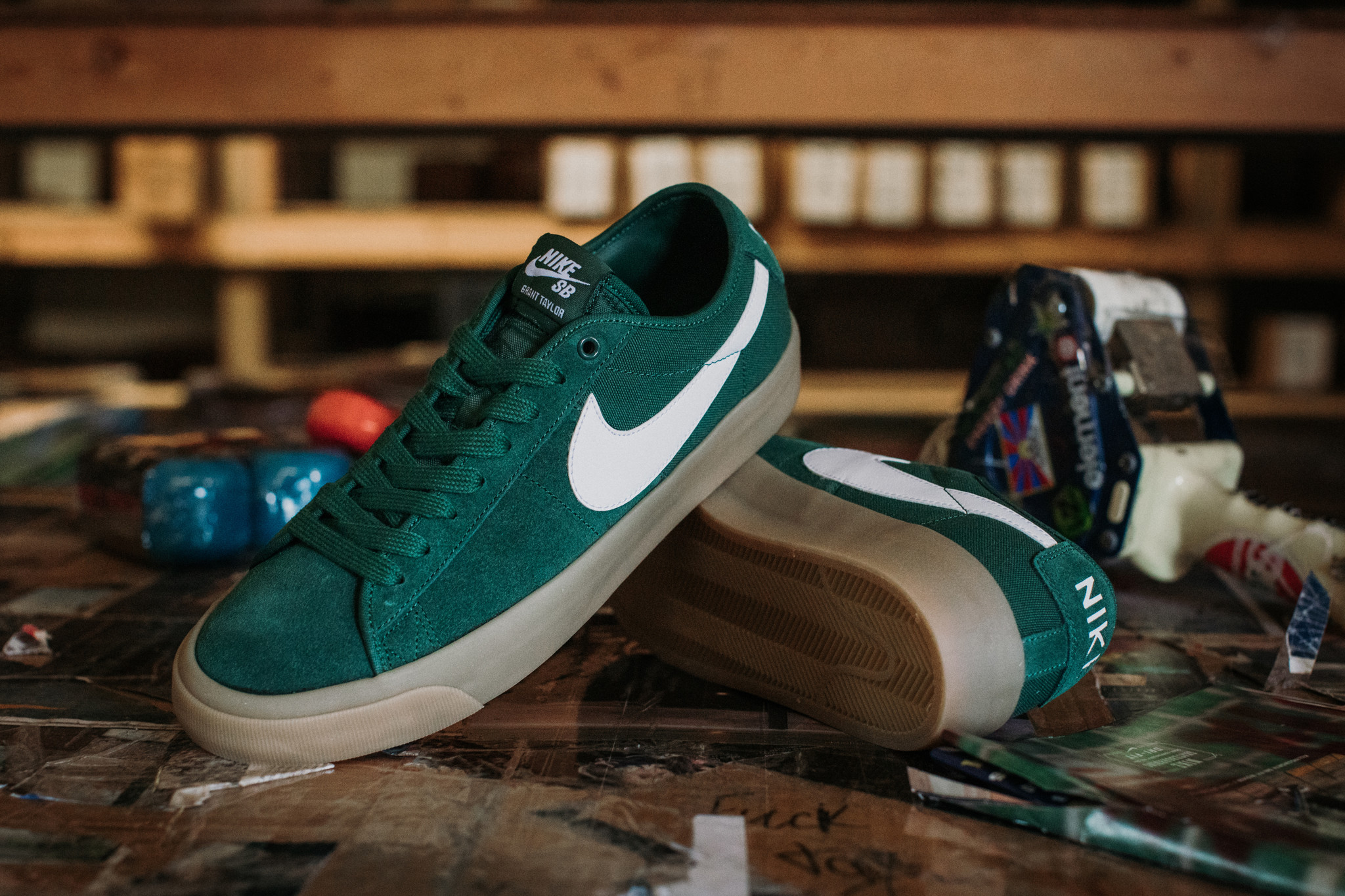 Color code Fir-White-Gum, this shoe reminds me of a spruce tree - rich deep green color on the upper with the infamously oversized swoosh on the shoe walls in white, with a classic gum sole.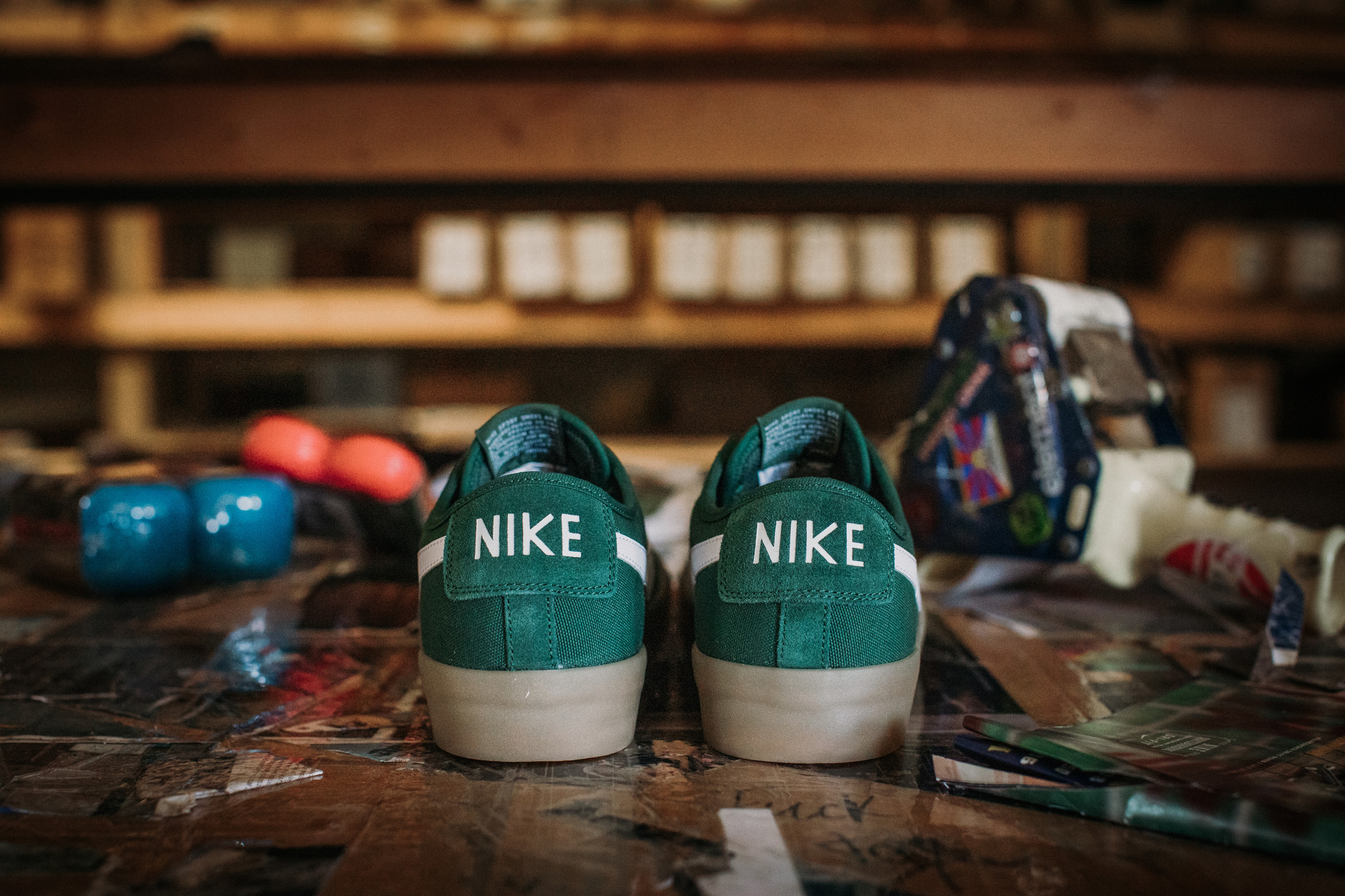 Look closely and you'll see a few features that immediately make this shoe stand out among other Blazer Low releases -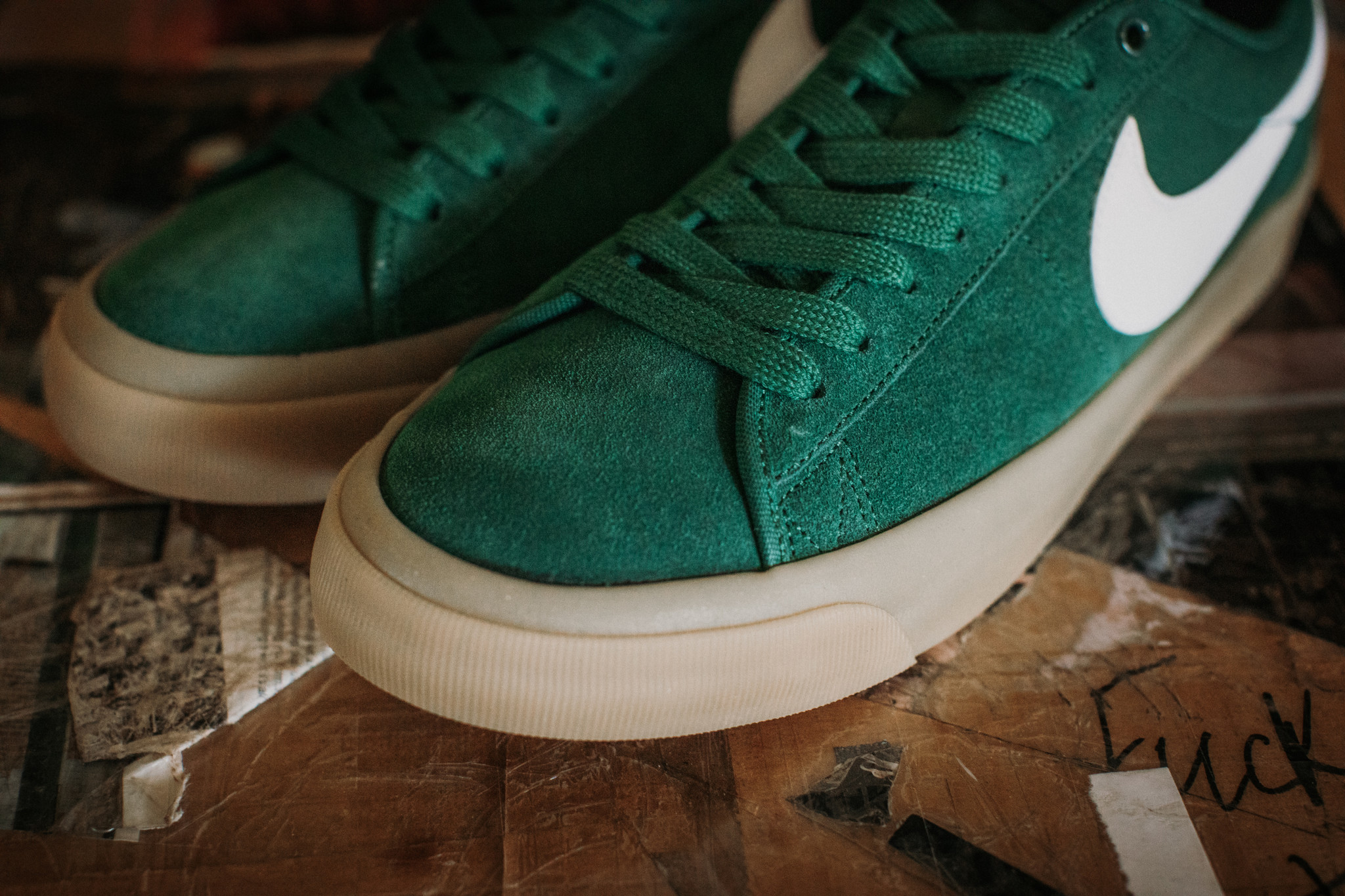 The first is the reinforced toe cap - this new toe cap rides up higher than a standard Blazer GT and appears to be reinforced with a thicker wrap around the outsole.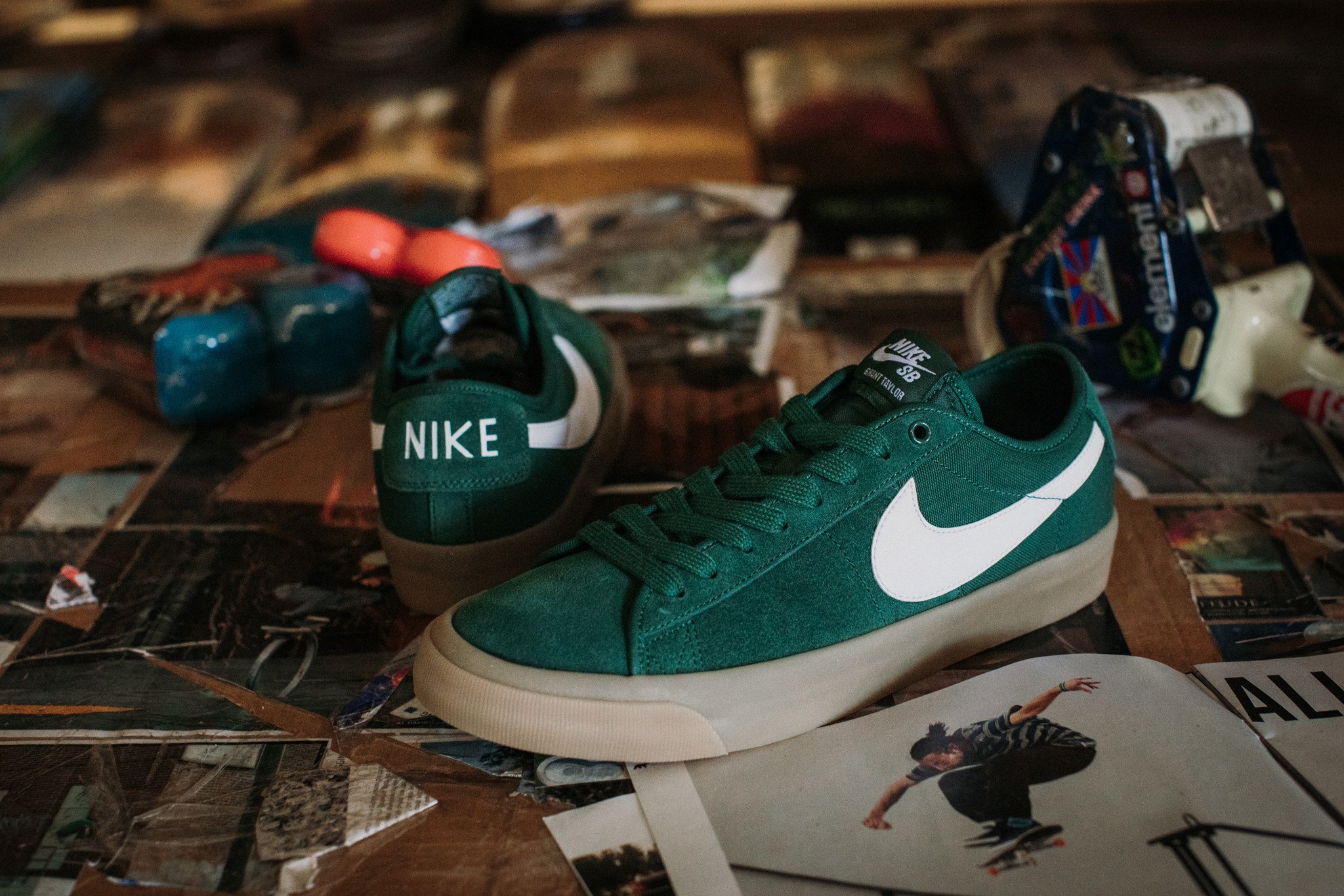 We have an awesome mix of suede at the front of the shoe, meeting canvas materials about halfway back through the swoosh.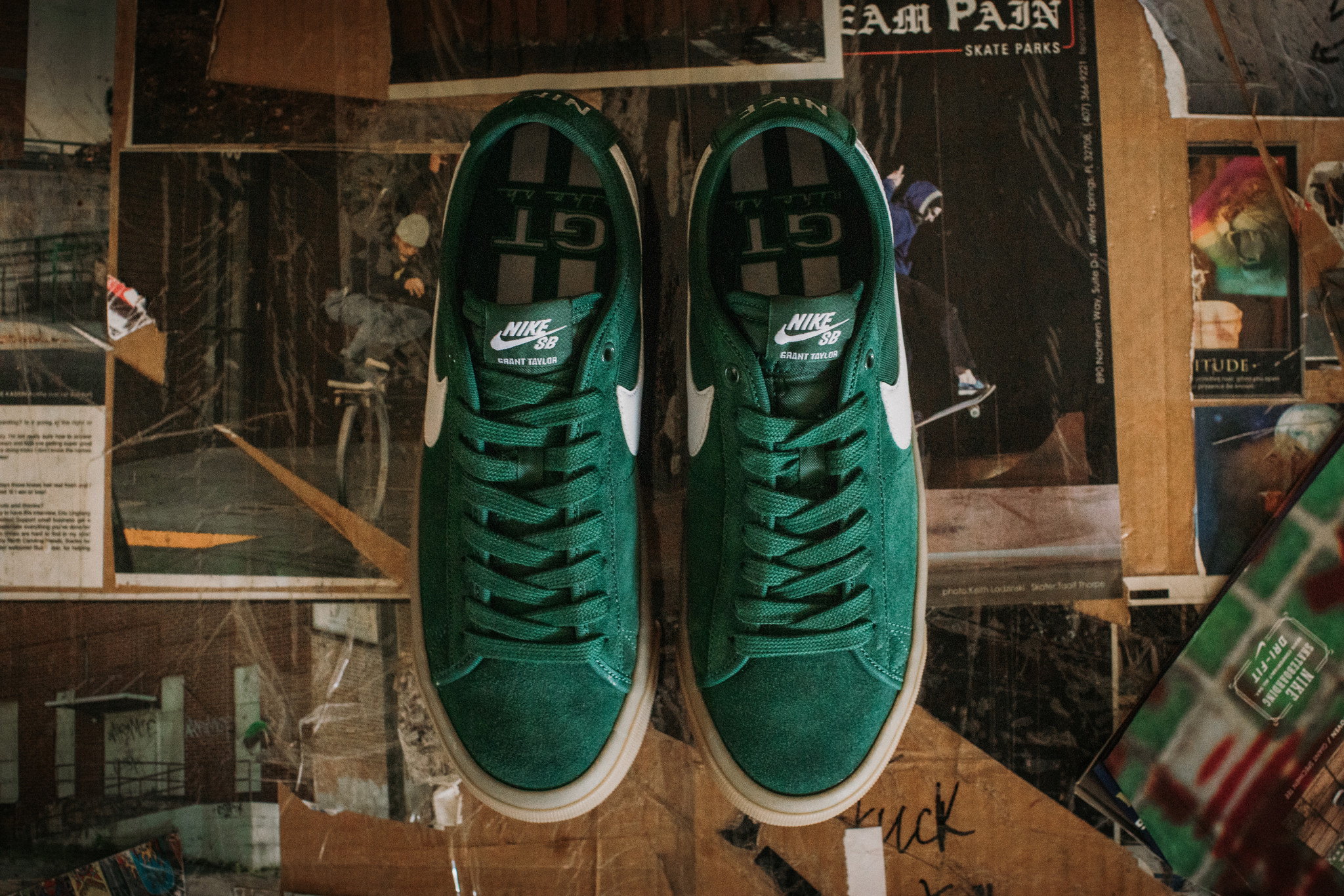 The interior of the heel section of the shoe is padded in a leather material, and of course under the heel we have Nike SB's zoom air comfort - The insoles have racing stripes on them, reminding us of the stripes on a Mustang 'GT' - Hmmmmm...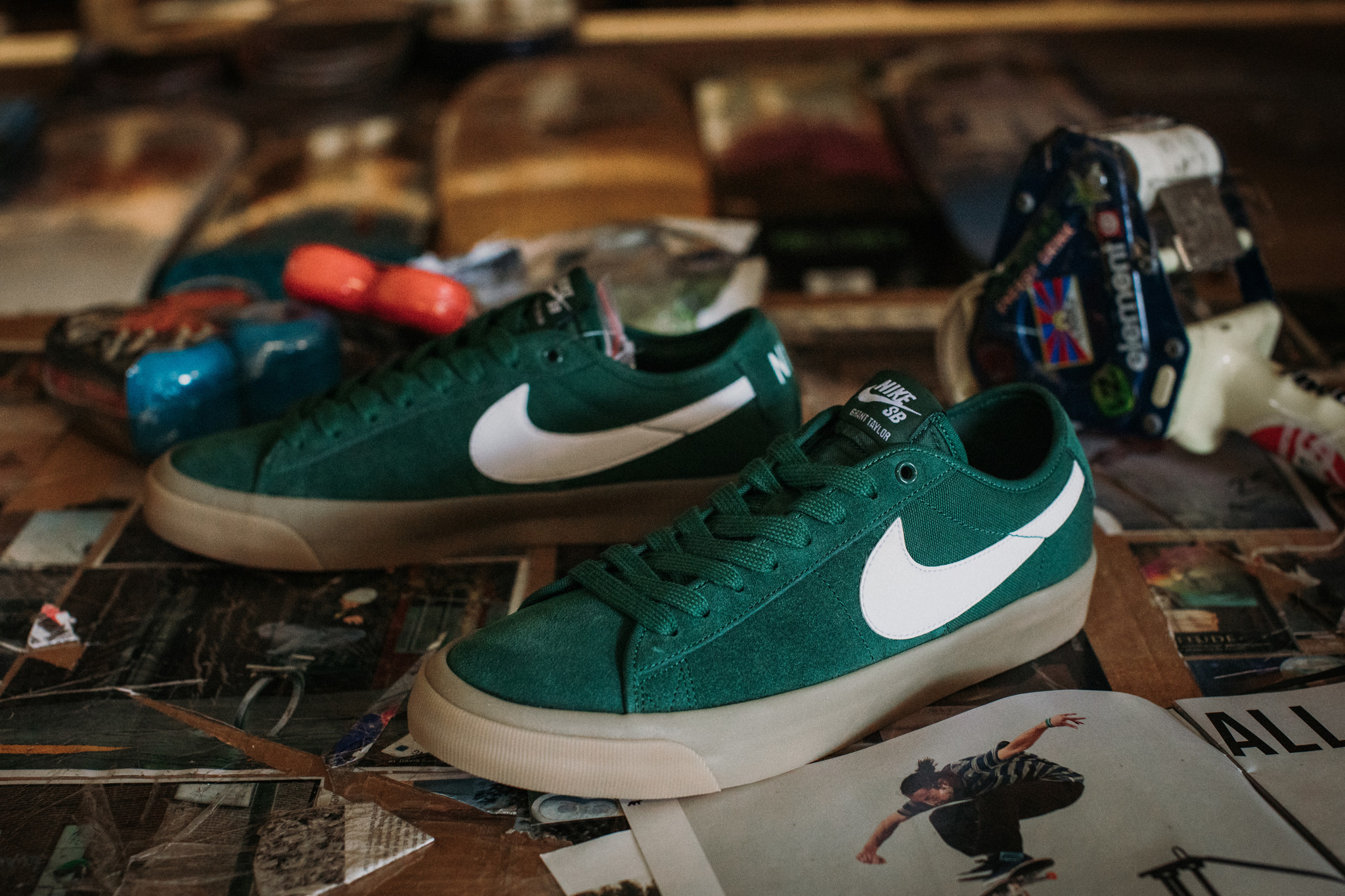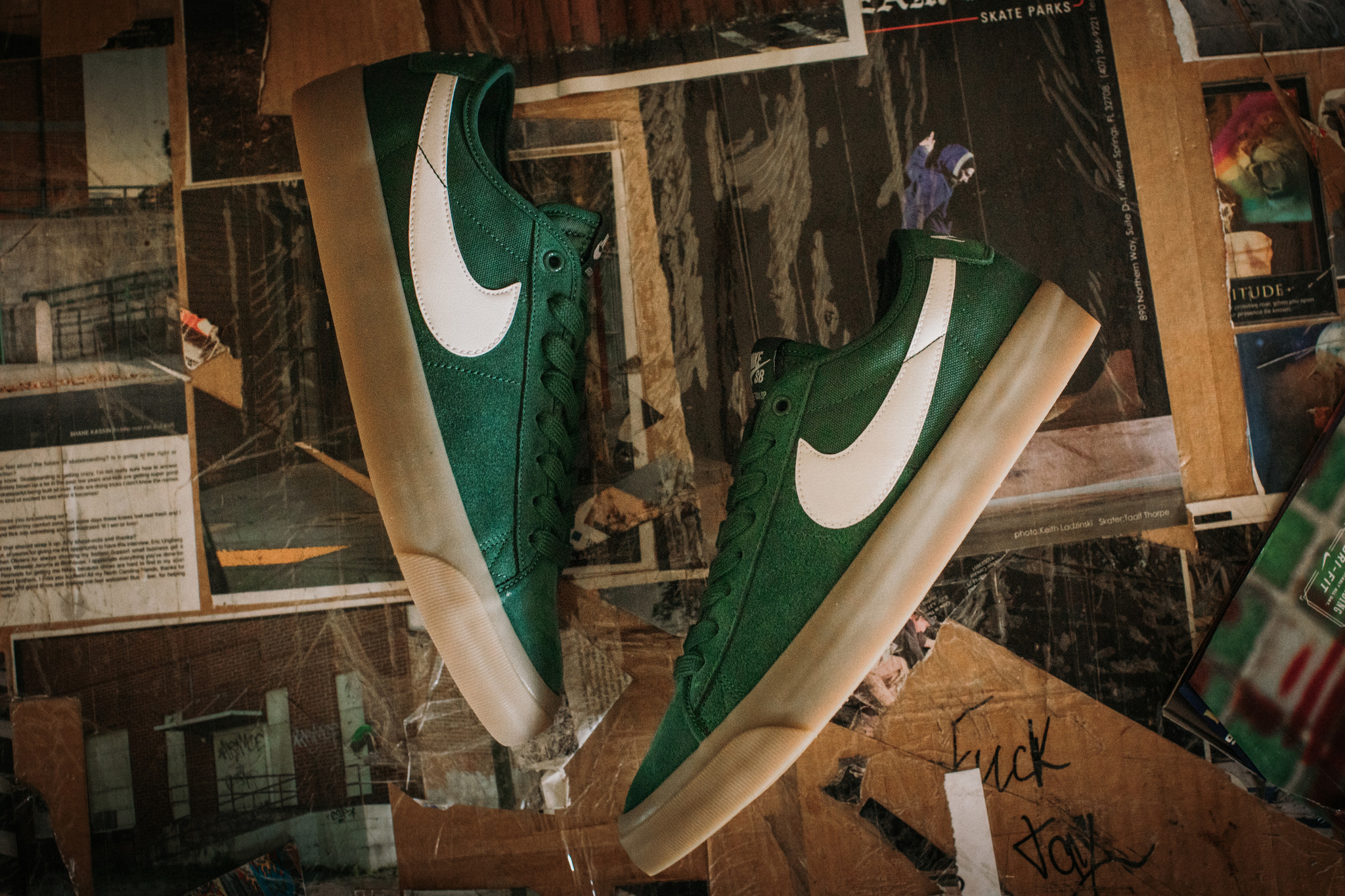 Basically this shoe is the beefed up version of our usual Blazer GT release, designed with more of a core skate approach, built to withstand whatever you can throw at it. The colors look better in hand than they do in the original photos we were given, and for this combo I give the shoe an 8 on the must cop scale of 1-10. It's really geared to a core skate consumer, whereas a lot of the Dunk and other Blazer collabs have been made to wow the consumer with colors and textures. For these reasons I like this shoe, and if you are skating your Nike's this shoe is a must have.
What's your thoughts on this new Blazer Low Pro GT? Is this a cop or drop? Are you planning to skate these or just keep 'em fresh? Comment below your thoughts, and make sure to follow along with other releases at Drift House on instagram @drifthouse