From the high quality threads and materials to the lovely details and relaxed fit; these pants are nothing short of remarkable. Each pair is hand crafted in Bali, Indonesia.

Televisistar is an apparel company that prides itself in being low-key & cultured. This preserves the authenticity, and allows the brand to grow organically via word of mouth. The pants speak for themselves; they speak to that person who eats up every little detail.

I was lucky enough to have the chance to pick Indra Leonardo's brain via email. If you're not familiar, Indra is the face and owner of Televisistar.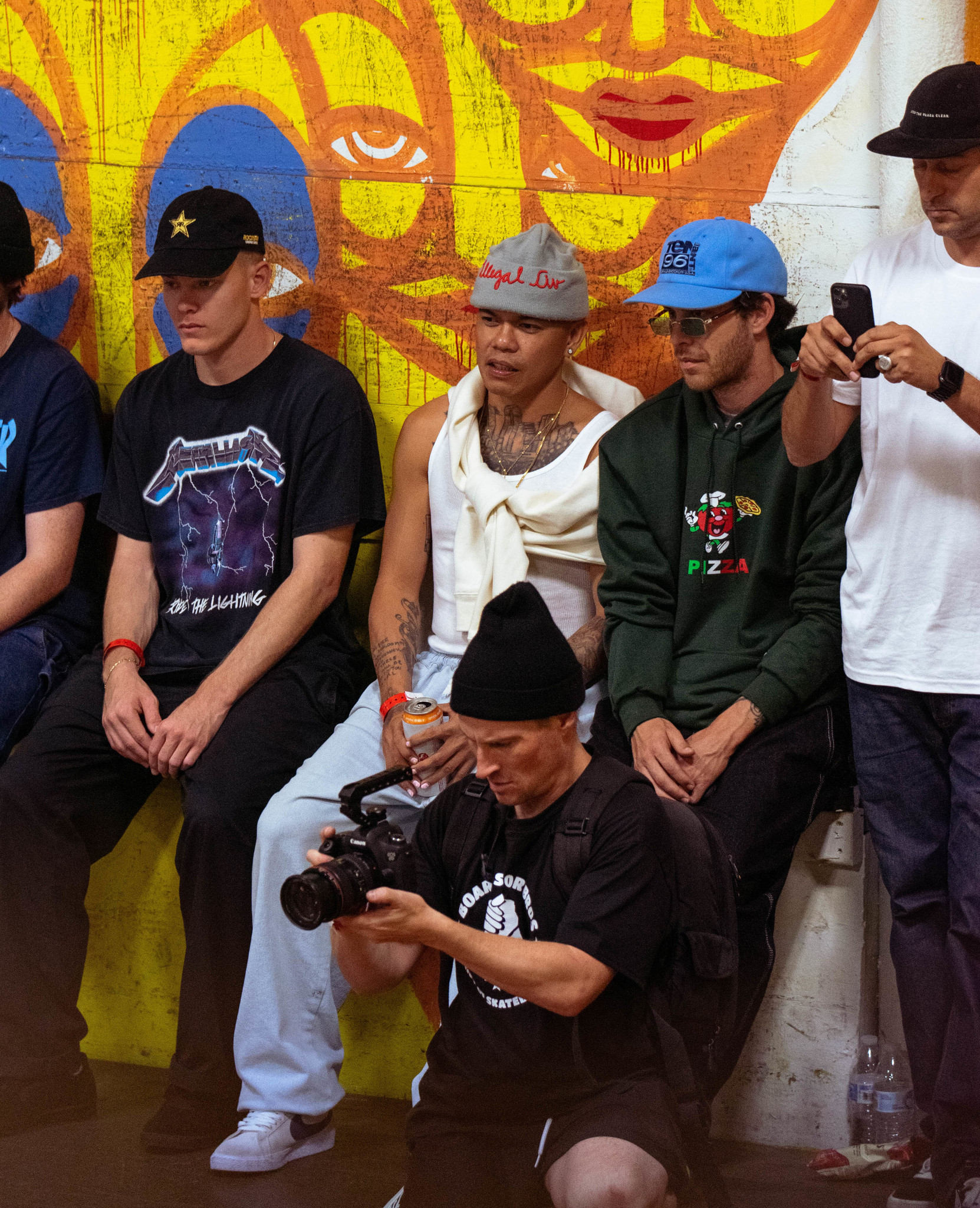 Q&A
From my understanding, you rode as a pro for sometime with Volcom; what was that like? How did that start?
I wasn't a pro for Volcom, I just happen to be one of the Indonesian team riders for Volcom back in 1999, they give salary to skate and also job to be working in their warehouse. It was my dream to be pro and living in America and skate with all my fav pro Hahaha.
I feel like every kid growing up skating, has an icon that they look up to in the skate world; who was that icon for you?
Back in the days it was quite hard to get skate videos over in Indonesia, so the only two ways that we could see skating would either be through second hand 411 videos or watching Bam and the CKY boys on MTV, other than that it was really hard to get a hold of footage to watch from pros of that era. My first board was a second hand tony hawk board!
What stands out to me about TVS is the quality of the material and attention to detail on your work, where did you first learn or gain the inspiration to make apparel?
I think as a skateboarder you are always trying to find apparel that you like to wear but is also functional for skating. Back in the days riding for Volcom I didn't really have to think much about what I would wear because I would just wear what they sent me. After I left I then had a choice to choose what I wanted to wear and pants were the number 1 priority. I guess it all just circles back to skating a being comfortable with what you are wearing.
What is the origin story behind TVS? How and when did you start?
TVS started originally as a media company that I created to show some light on the talented skaters that I felt were being left out of media attention because they were in Indonesia. In terms of the pants we started around two and a half years ago just selling to the homies which just naturally grew into what it is today, a crazy blessing!
I was first introduced to TVS when I saw somebody rocking a pair at SPOT during Tampa Pro. My coworker bought the last pair you had during Tampa AM. We just saw Oski wearing your pants in the Nike SB part; it seems we're seeing these pants everywhere. What has it been like keeping up with the exposure?
It's really just a blessing to be able to see all the love that we have received recently with the pants, it's getting a little hard to keep up with all the coverage but it's a great thing to be able to see from pro to beginner skaters all loving them.
What are the biggest challenges TVS faces during production?
Due to Covid it has been quite hard to get a sustainable flow of fabric for creating the pants, other than that we have a dream team over in Bali which makes the entire process really enjoyable to make pants for you all!
You guys just switched into a new warehouse space, you guys are growing rapidly! What plans do you have for the future and do you plan on opening up a store front?
Yes ! The new space is amazing and we look forward to growing into it. In  terms of plans for the future we have a couple great trips lined up this year to go out and see some of the people that show us so much love with the pants. A shop in the US would be a dream or anywhere for a matter of fact brick and mortar all the way!
TVS recently collaborated with PIZZA, do you guys have any more collabs coming up, that you're free to talk about? DH X TVS? ;)
We do have a couple coming up that we can't quite talk about yet ;) but I'm sure we could get something going on with you guys ! be on the lookout :)
Thank you for taking the time to tell the story and vision of Televisistar. We're excited for what lies ahead.
It's a pleasure and much love from Bali G's!!!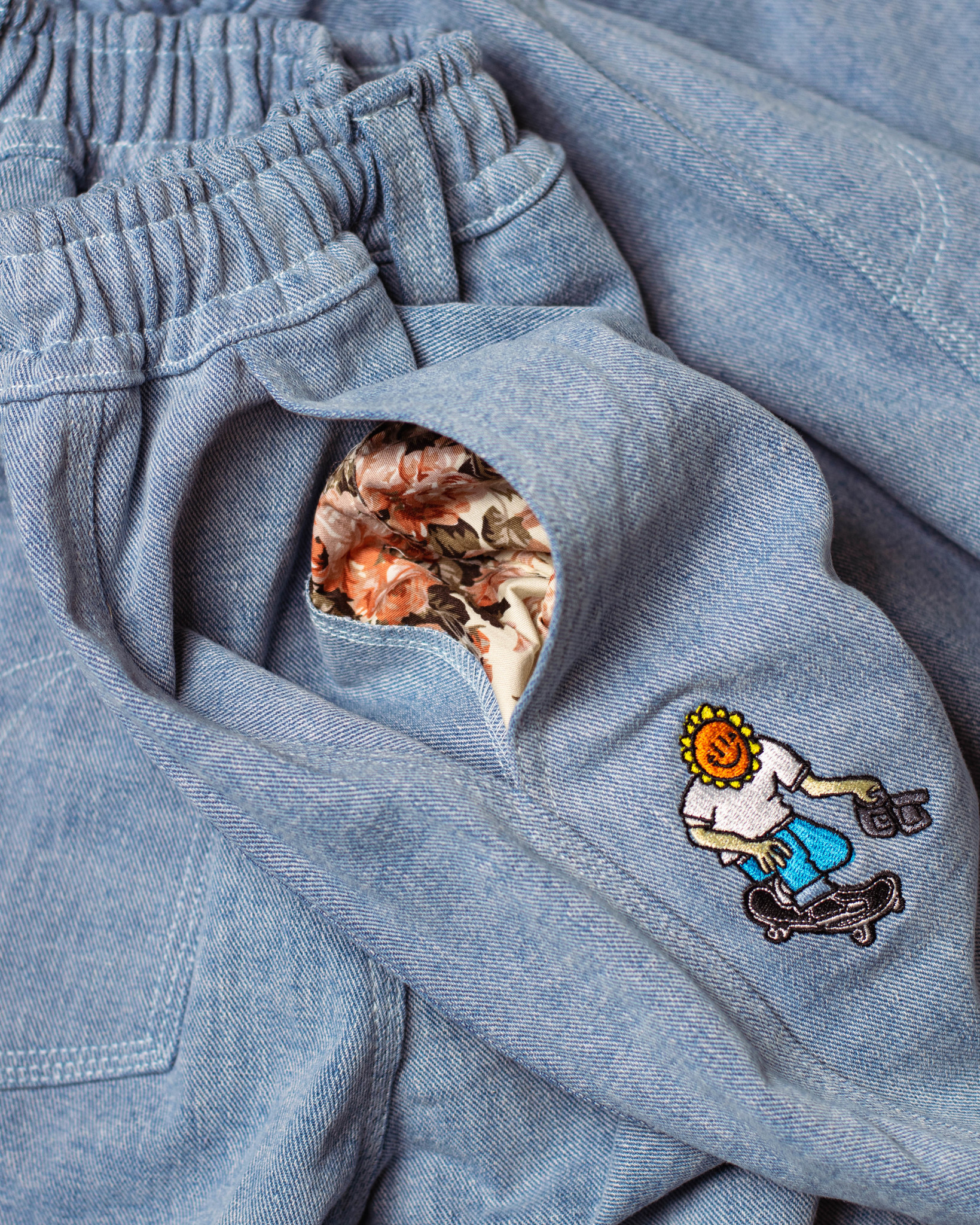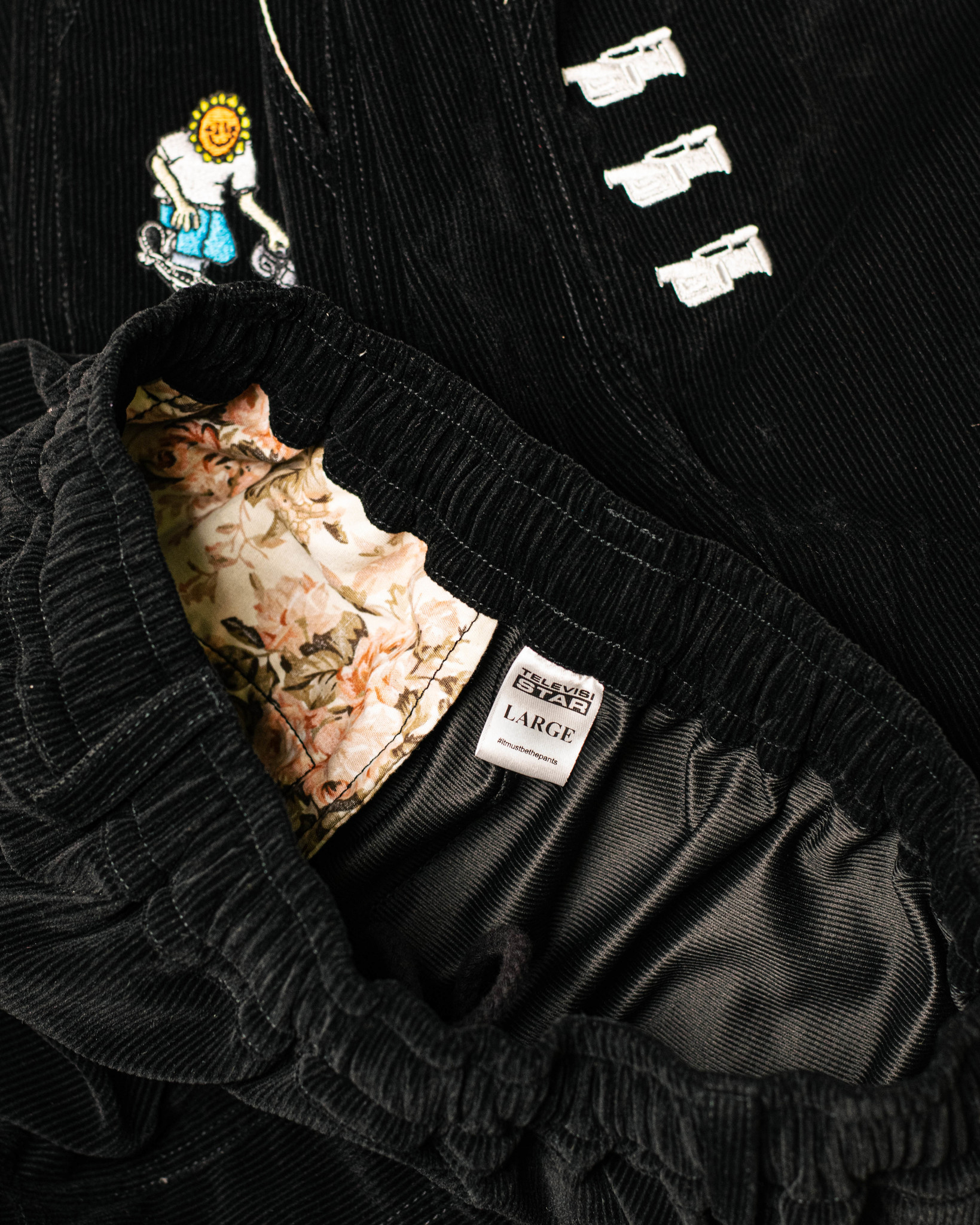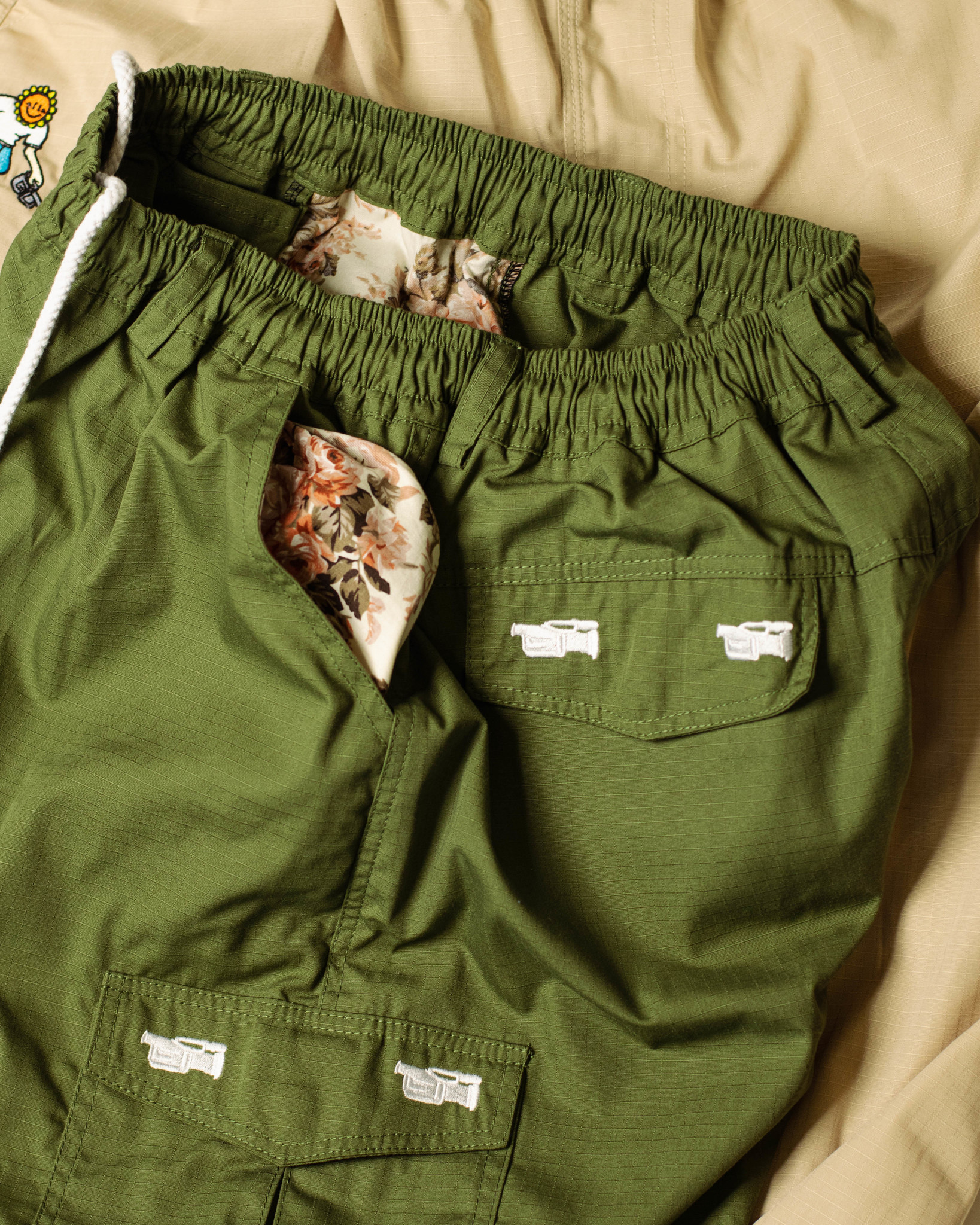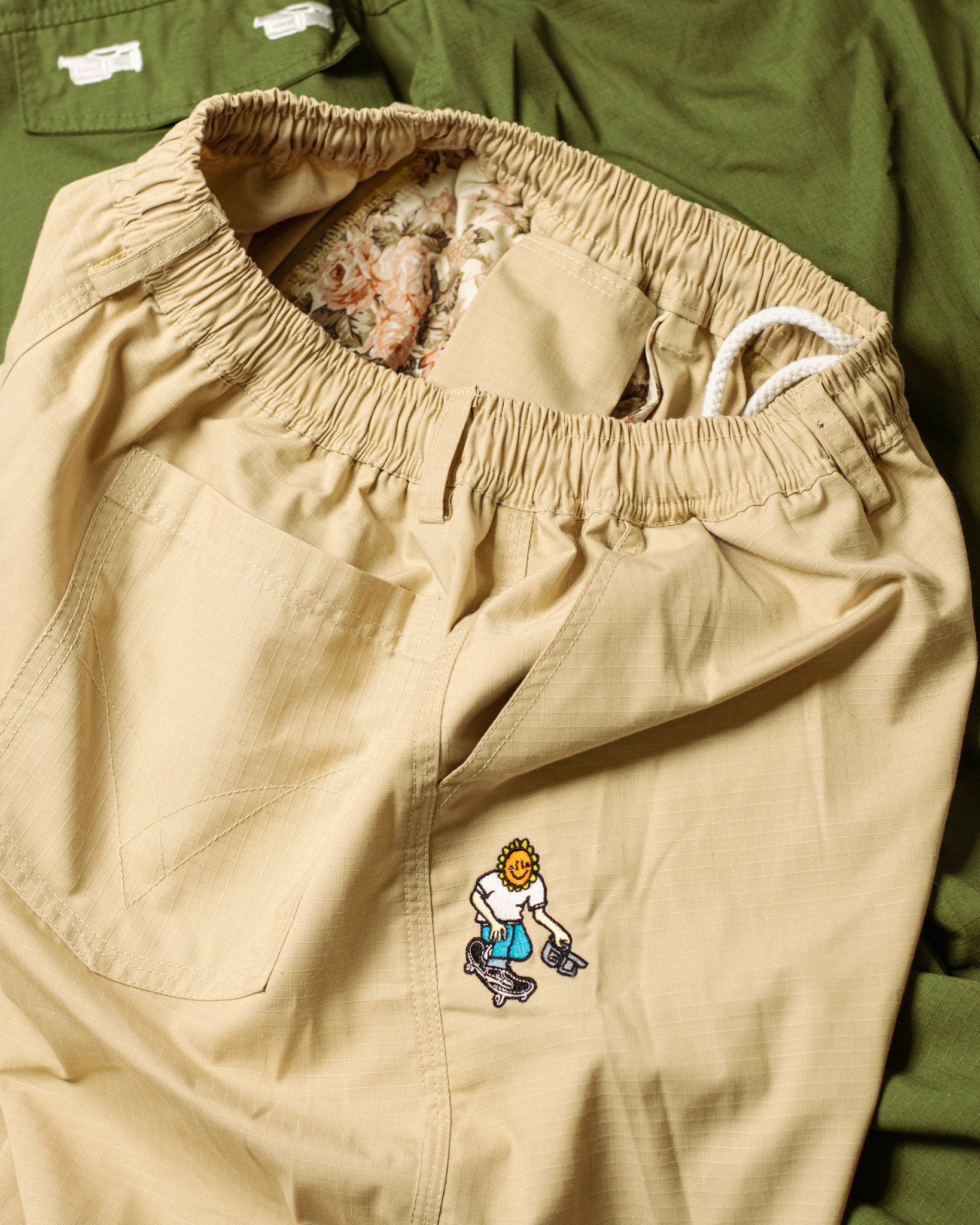 We've brought in 4 different styles of pants, and 2 styles of shorts. Each pair feature unique embroidery, along with an elastic waistband, belt loops, hidden drawstring, and a little stash pocket. Not only are the pocket's lined with floral print, but they're also very deep. 
As you can see, it fits a Bud heavy 'Tall Boy' can no sweat. (;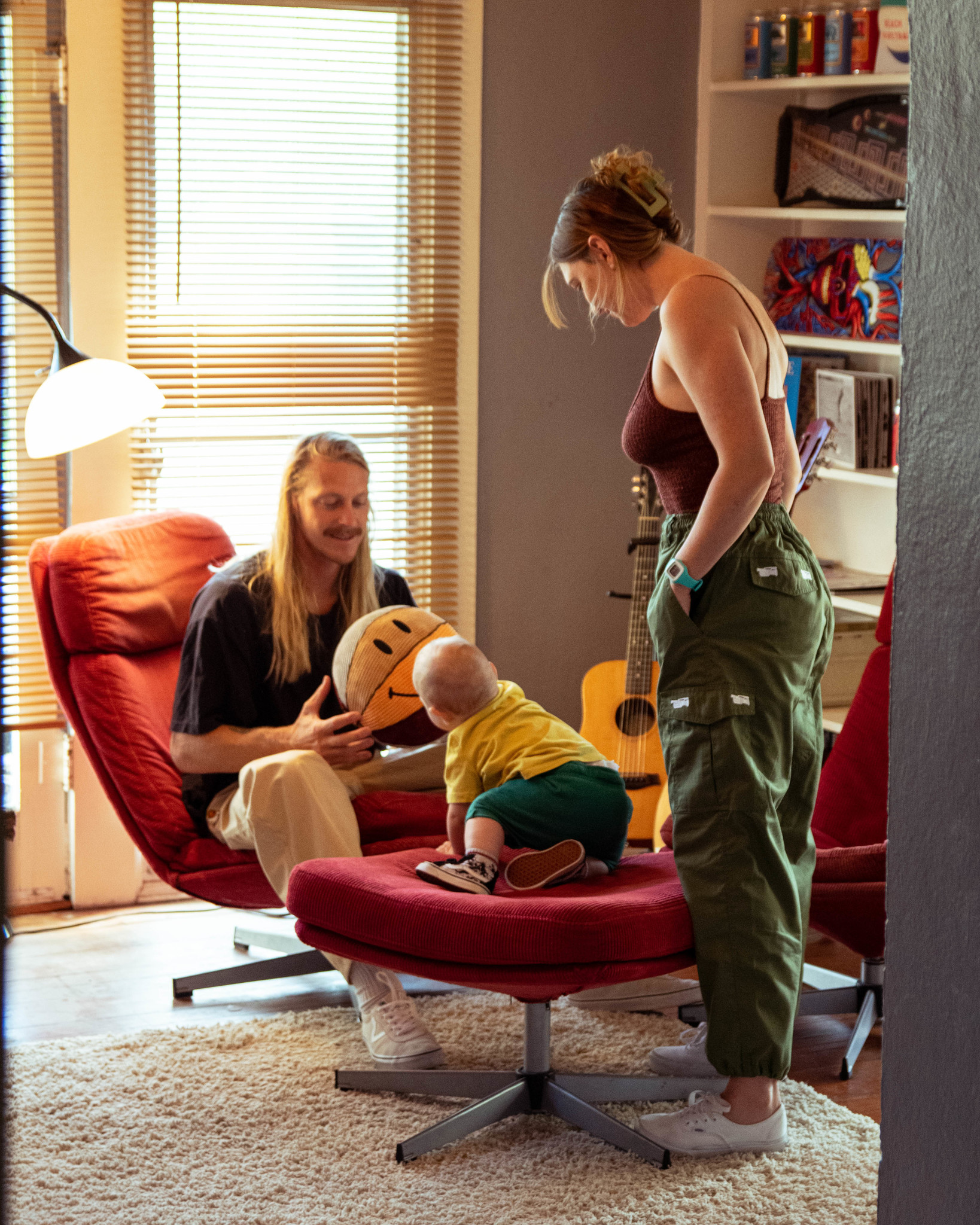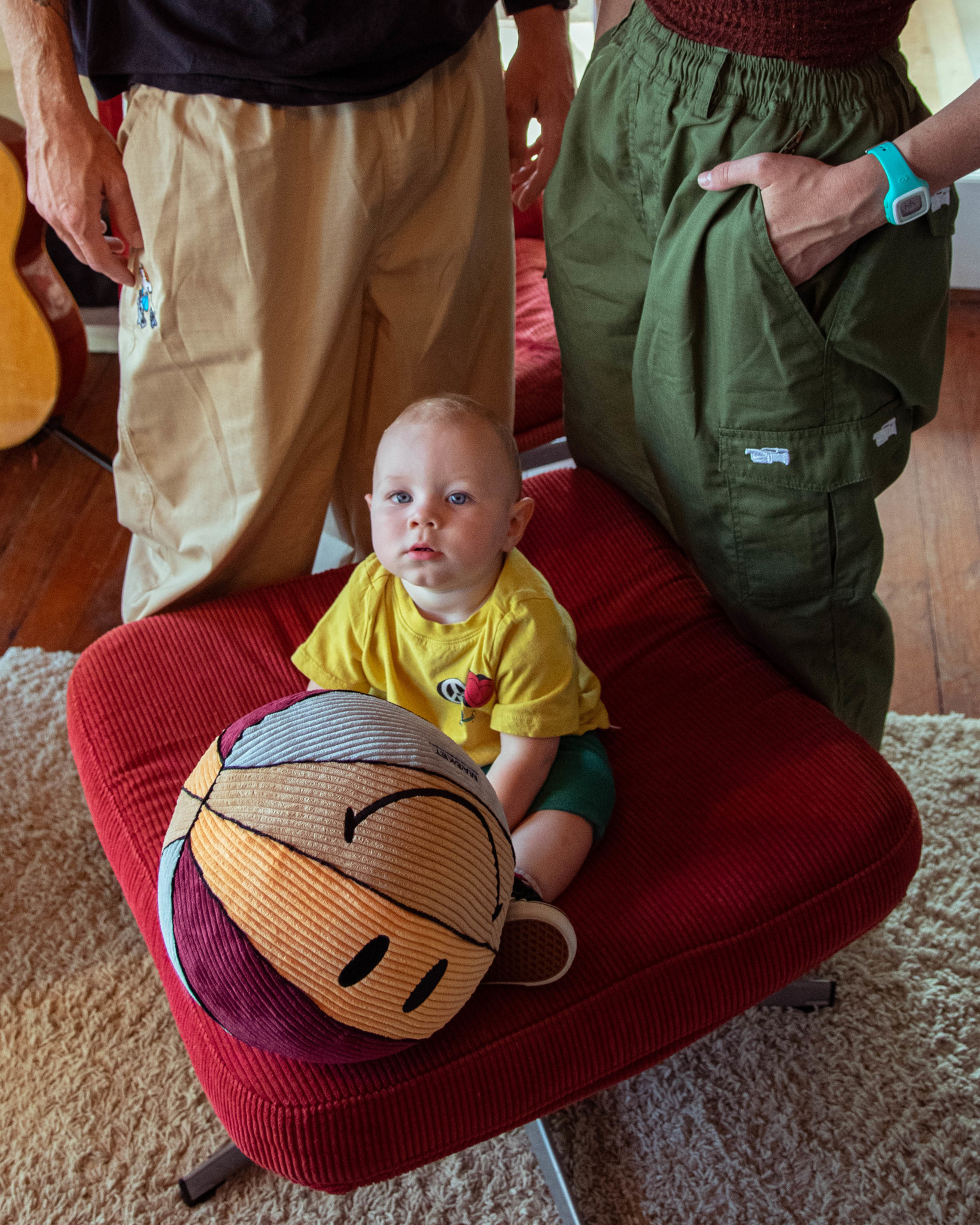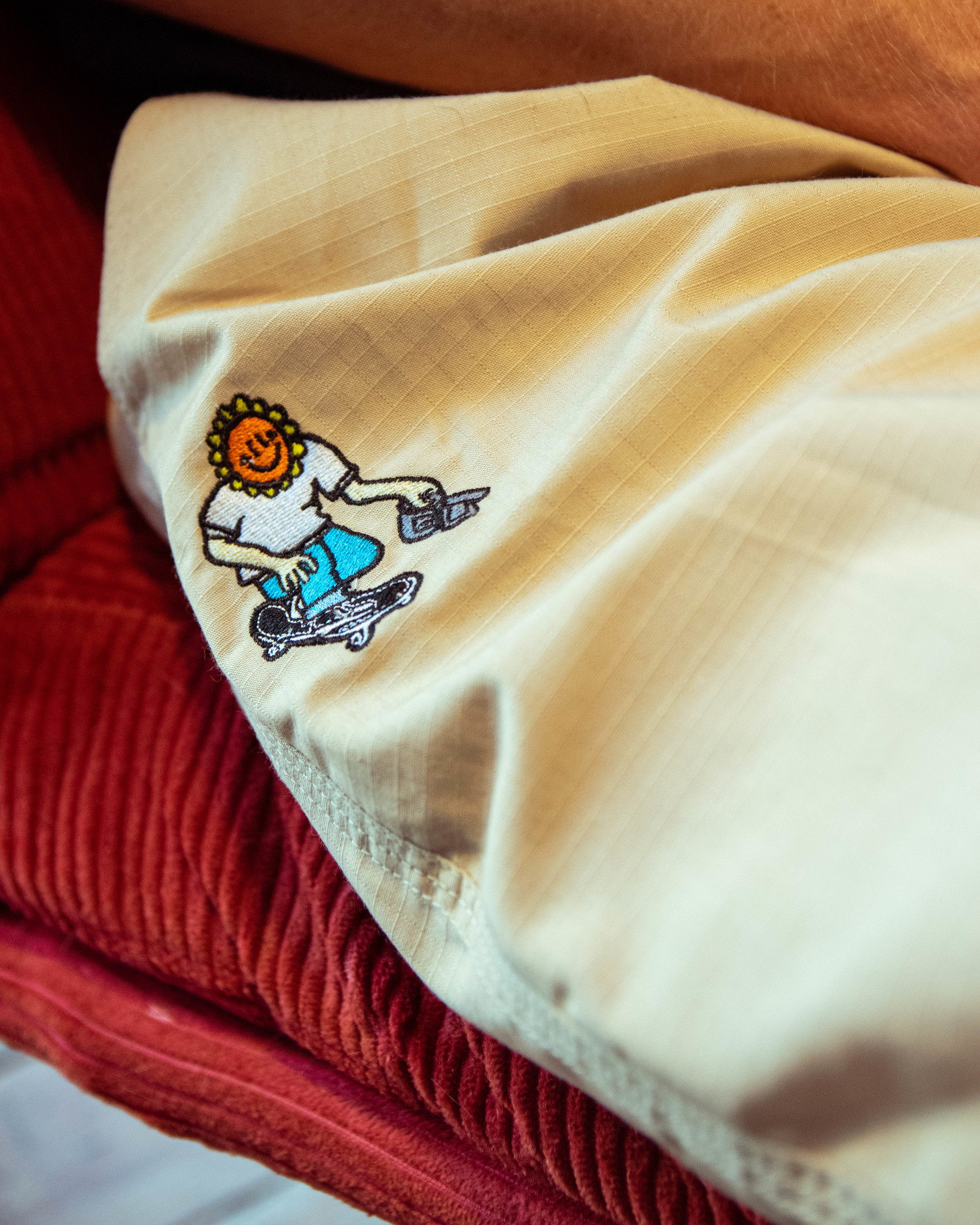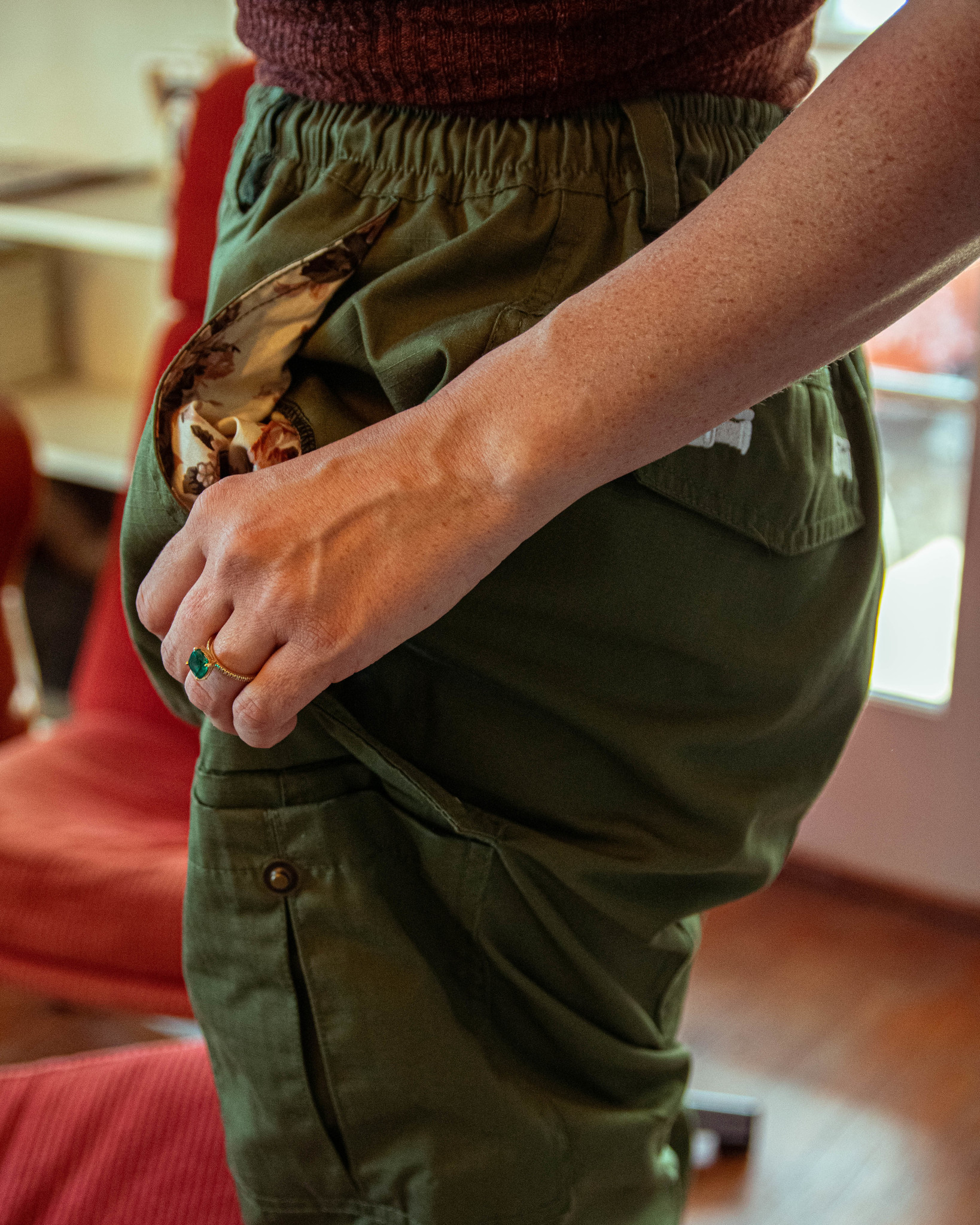 Ryan can be seen sporting the Beige Ripstop Pant, featuring the Sunflower Filmer embroidery. Chelsea is wearing the Olive Ripstop Cargo Pant, which features VX1 embroidery, adjustable elastic around the ankles, and more utility pockets with snappy buttons.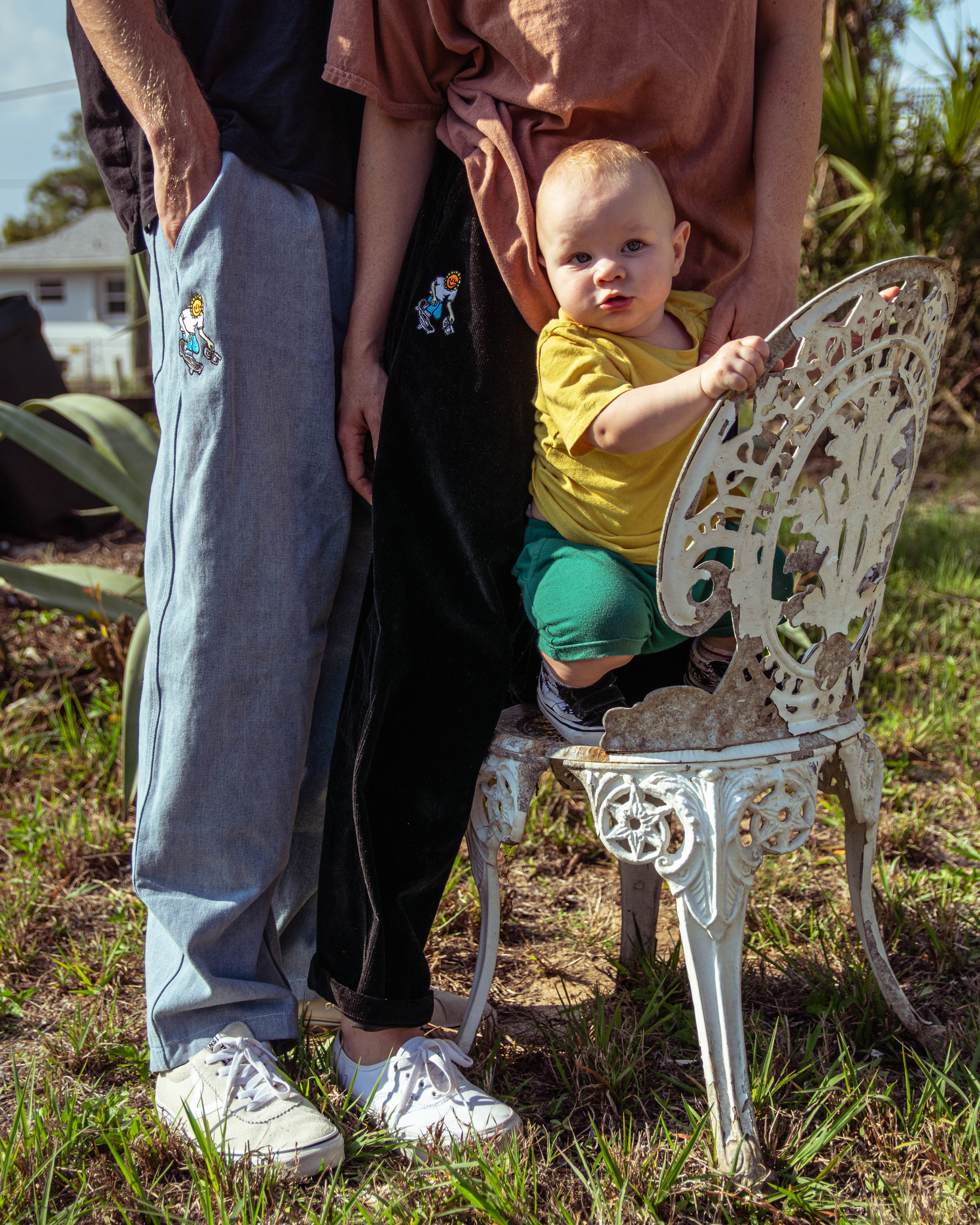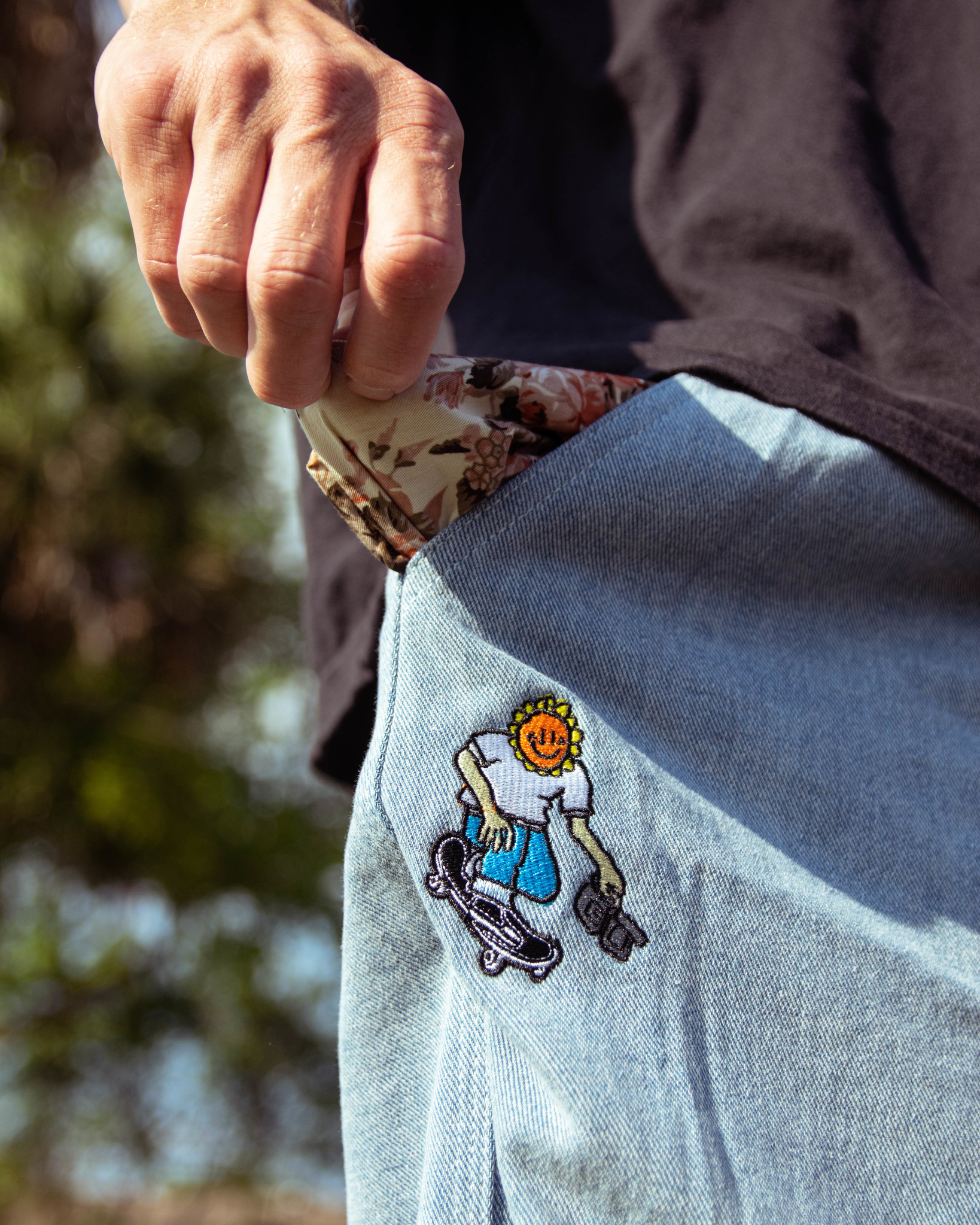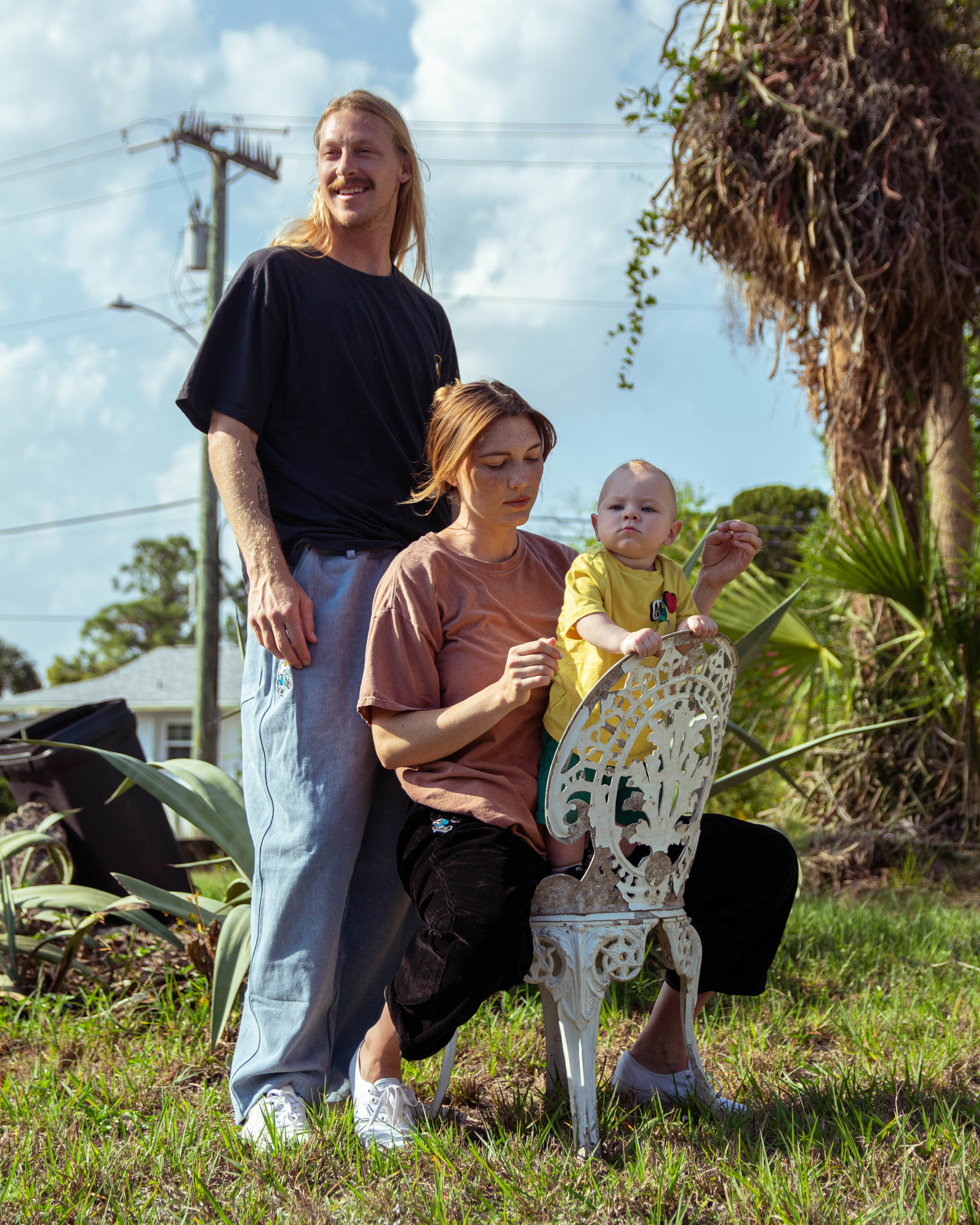 Here we have Chelsea wearing the Black Corduroy Pant, while Ryan is in the Light Blue Denim, both featuring the Sunflower Filmer embroidery. Words cannot do these materials justice.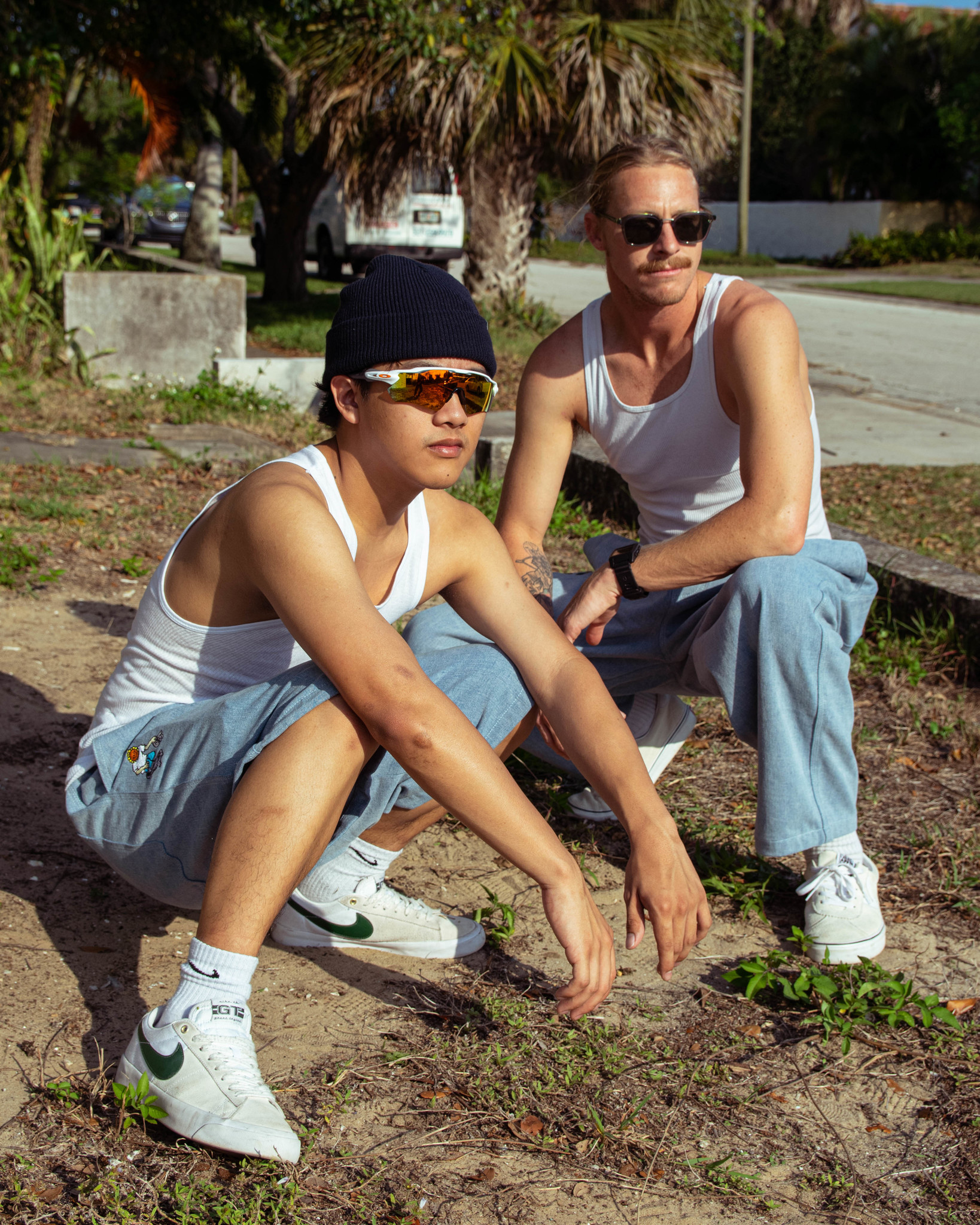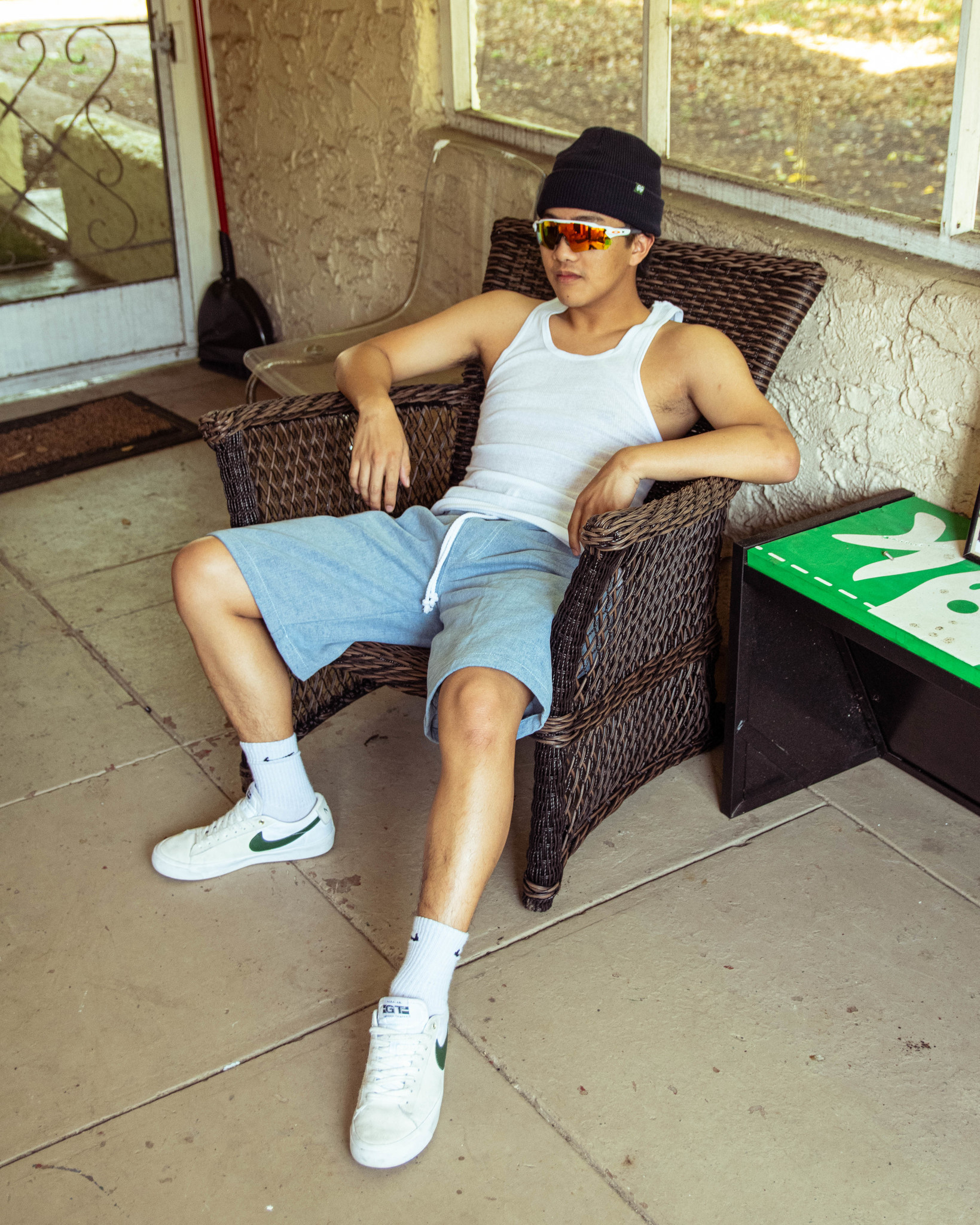 Next, we have the Light Blue Denim Short, featuring the Sunflower Filmer embroidery; as well as the Black Corduroy Short, which features the 3VX1 embroidery.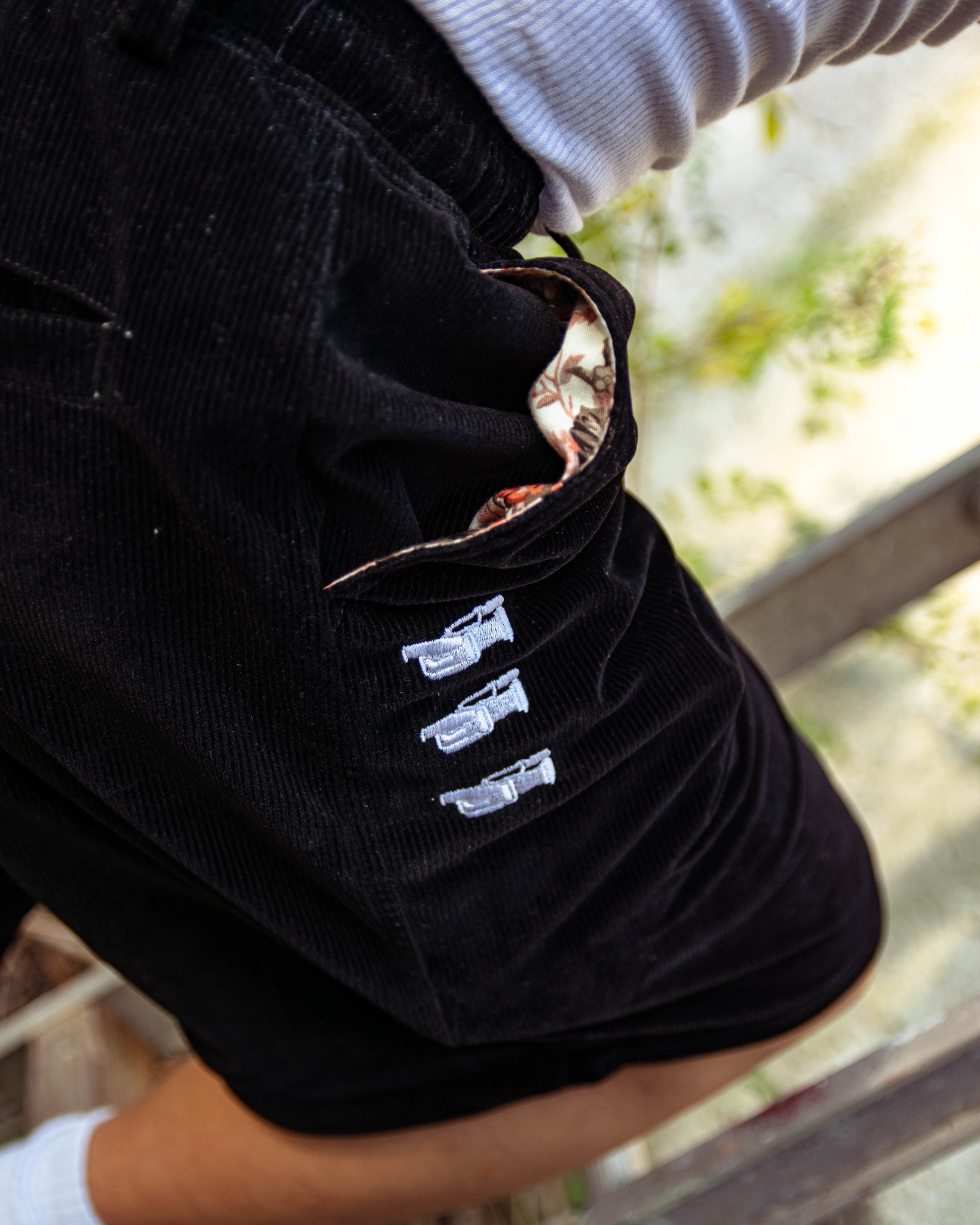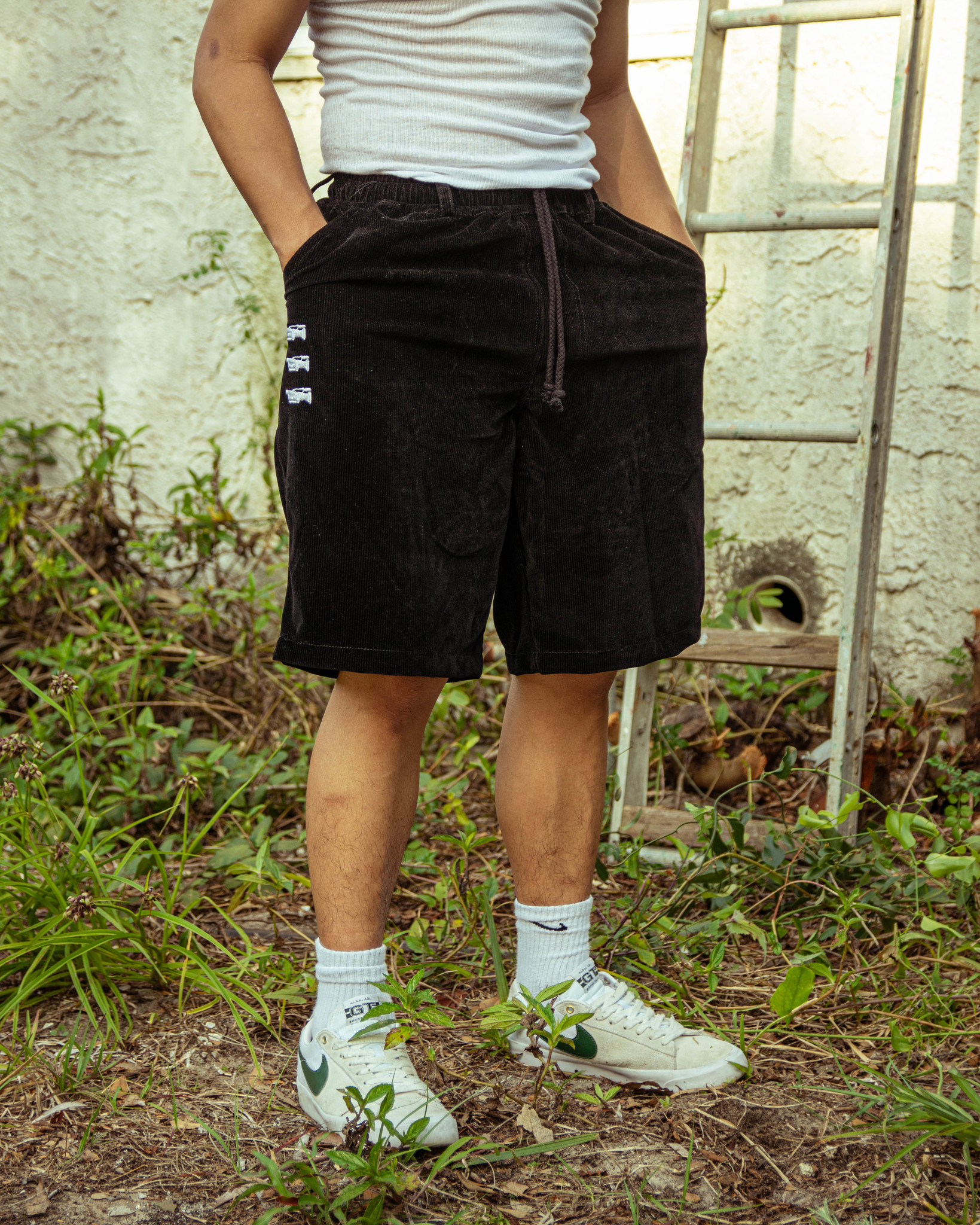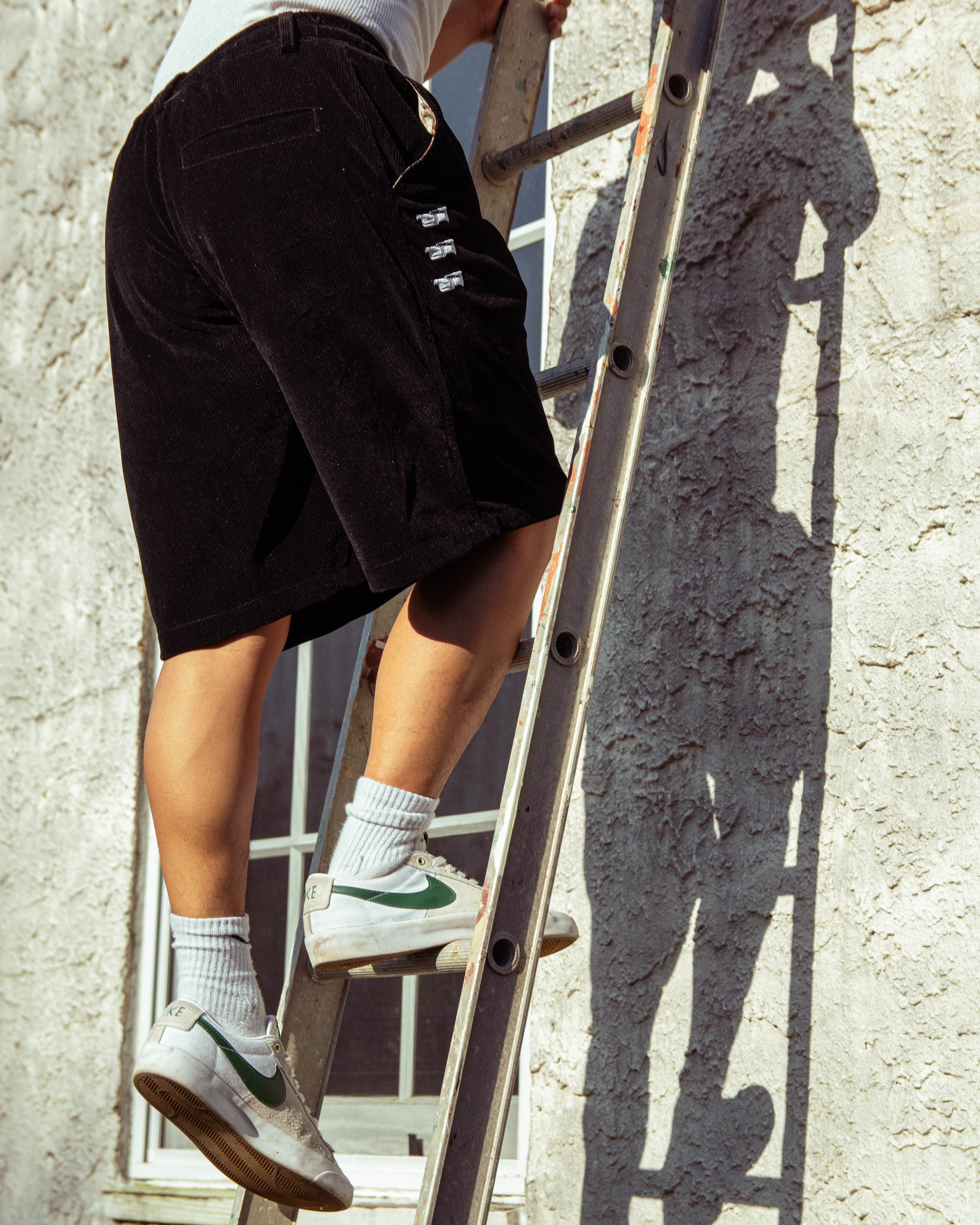 Televisistar is now available in-store & online, limited quantities available. Find more info & availability here.