The functionality of the tide watch is nothing new, and is in fact a staple piece of equipment for ocean dwellers of nearly any water based activity. The need for accurate tide information can really elevate your experience in the water, for everything from surfing to sailing, to diving and just going for a swim or walk on the beach.
So why the G-Lide collection GBX100? Casio has taken its extensive knowledge in timepiece manufacturing and applied it to nearly every facet of usability, and the newest color in the GBX100 series is no exception to continued efforts for innovation.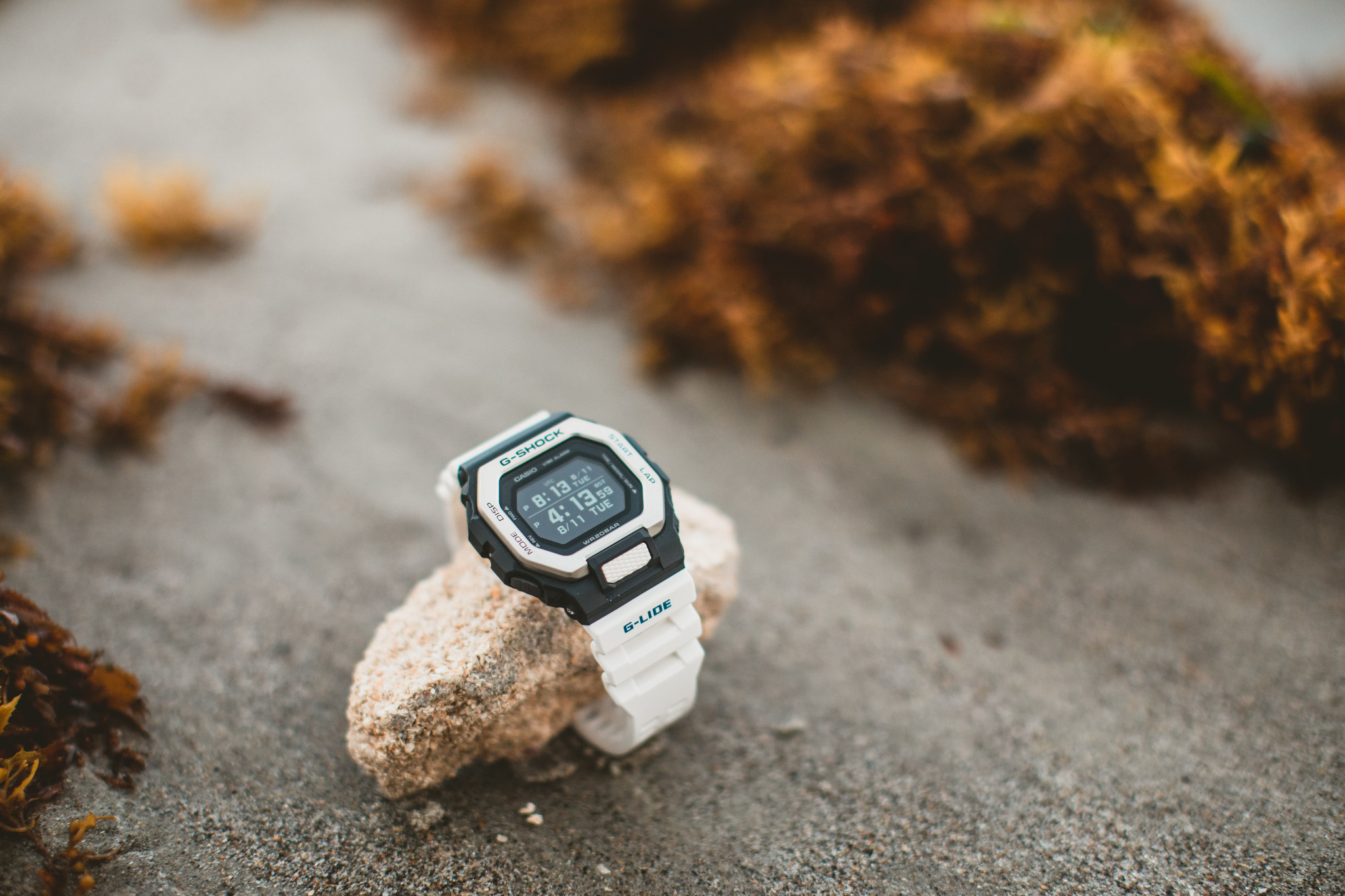 Featuring a new screen and new operating system, this GBX100-7 has a crystal clear display with nearly flawless bluetooth connectivity that makes updating, adjusting features, and using the timepiece extremely simple - the watch is definitely not a 'smart watch' and won't give you the same benefits derived from the features of, say, the Apple Watch, but this is designed to be a no BS cost-friendly tide watch at it's core. There's no need to recharge the watch every night, and doesn't have a ton of applications running in the background, but it boasts convenient modern features we are beginning to expect from a wrist watch nowadays: Training functions, displays for distance, speed, and pace; accelerometer, calories burned, life log data, flight mode, and more.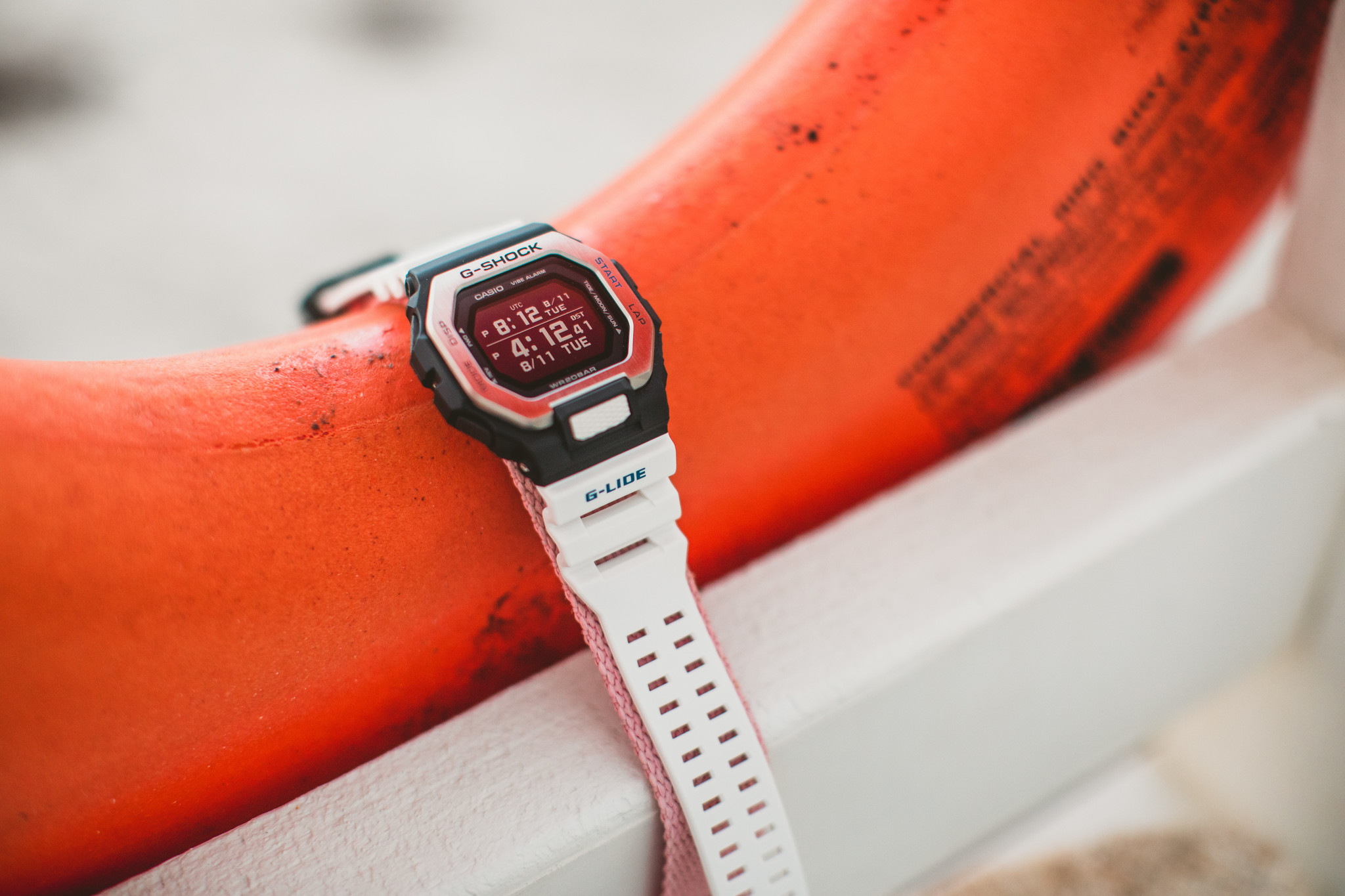 Let's talk about this new screen - it's buttery smooth and easy on the eyes, numbers and characters are smooth and crisp which I much prefer over the chunky, boxy 'minecraft' style of many other digital read faces. It accomplishes this smoothness via the MIP LCD screen, which stands for 'Memory In Every Pixel' - This newer operating system has different features for each model it is applied to, and for the G-Lide GBX100 series offers special screens for tide charts, moon phases, and various other information.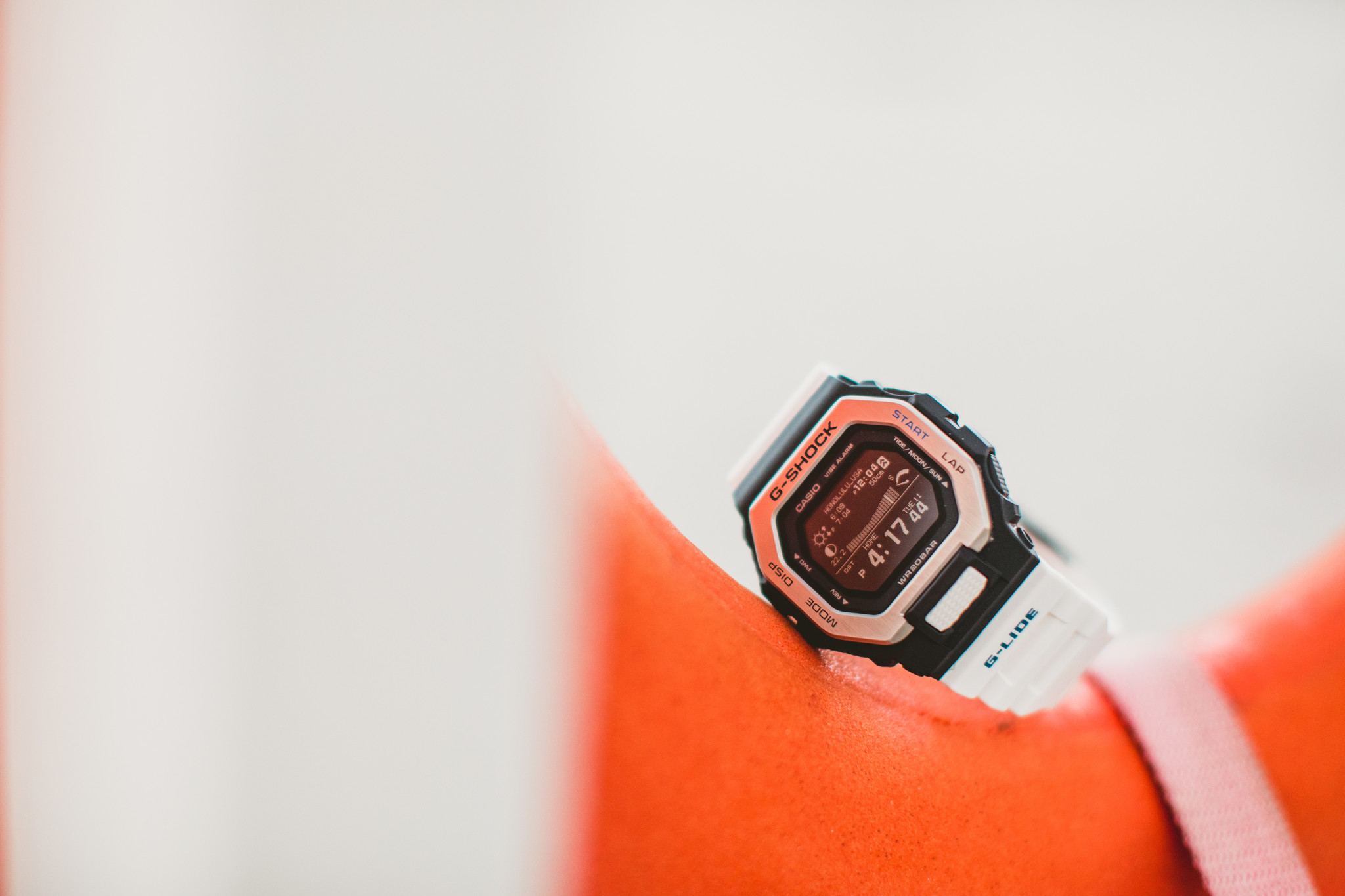 The color featured here is the newest arrival in the lineup, and I have to say they have made a very attractive silhouette with this series. Smooth but angular design, you know immediately that this is a G-Shock piece. The stainless steel bezel gives the resin case an air of sophistication matched on the new white band, with a sense of toughness, too. The watch straps just below the 6 and above the 12 marks are vented to allow for the release of water, and increases comfortability under active situations where there's constant movement. 
With a case width of 46mm and at just 14.7mm thick, this watch could easily be worn on a daily basis, special thanks to its streamline design and easy-to-change face display options. With water resistance to 200M (660 Feet) you wont ever have to worry about this timepiece surviving daily use. If I could add any of Casio's great features to this watch to round it out a bit better, I would suggest they add the solar charging feature to the face as seen in many of their other watches. I guess I can't have my cake and eat it too, in this case it would just get soggy anyway.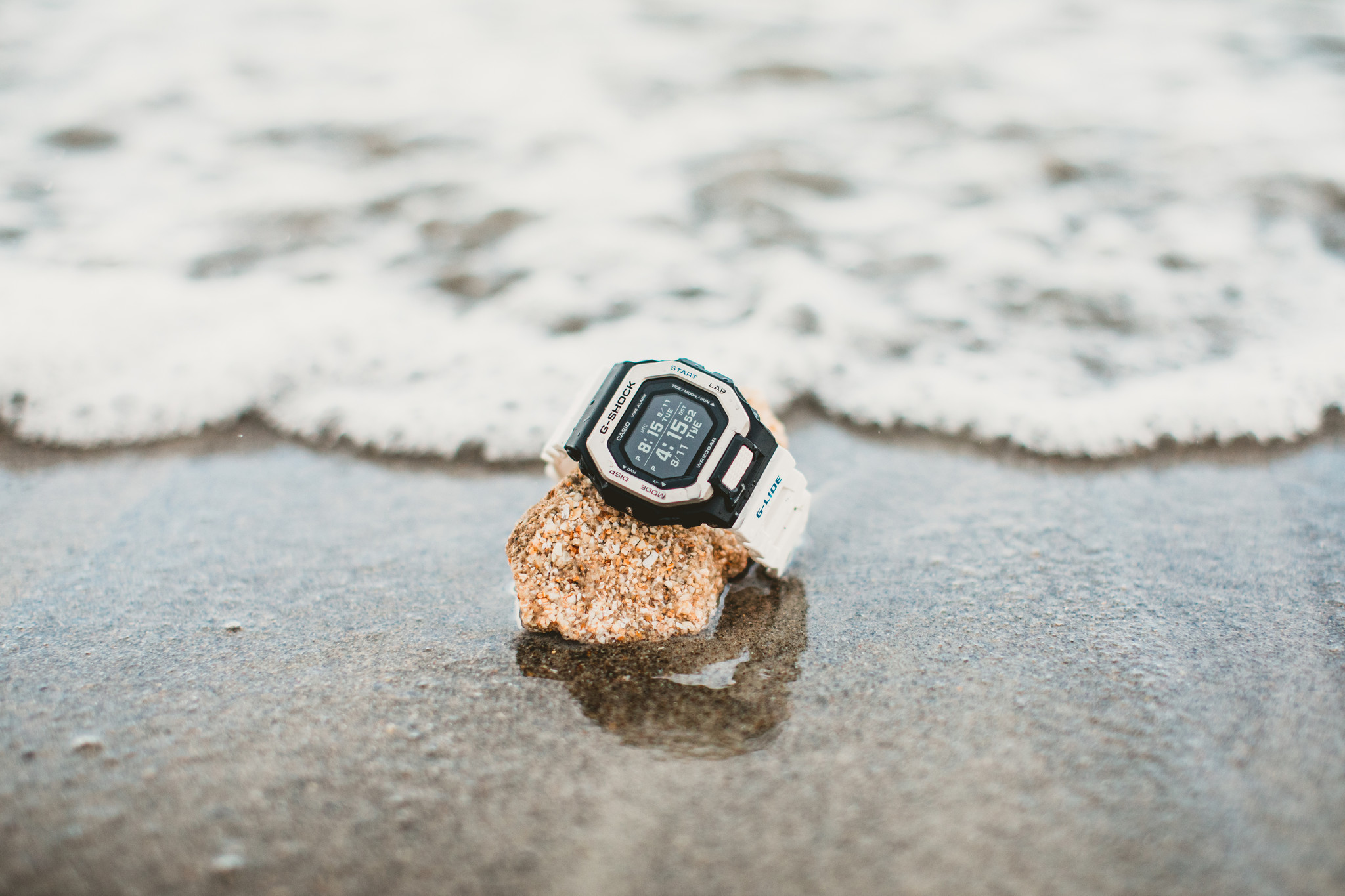 There's nothing crazy for the battery operation, it's said to have a standard 2 year life on a basic CR2032 cell battery. I guess this is pretty remarkable considering we're powering a bluetooth connection as well as a pedometer (step counter) on this watch. Yes, you can use this as an activity tracker in conjunction with the G-Shock Move smartphone app!
The best part about having an app to connect to the watch is that you can easily make adjustments to the features of the face, the time, search tide charts, and much more right from your phone - this saves a ton of navigation through the various screens on the watch itself, and gives a bit of tech savviness to the user. The tide chart is pre-loaded with 3,300 various beaches worldwide to make finding your next beach a breeze, leaving you to focus on the adventure. 
Navigating the faces on the watch itself is accomplished by pressing the 'Lap' button on the side, which will slide through various data oriented options. There are a TON of bits of information throughout this watch, and breaking them all down can be a little confusing. Knowing this watch and all of its data will take some time to learn, but once you have it all figured out the data and features that data provide are endless!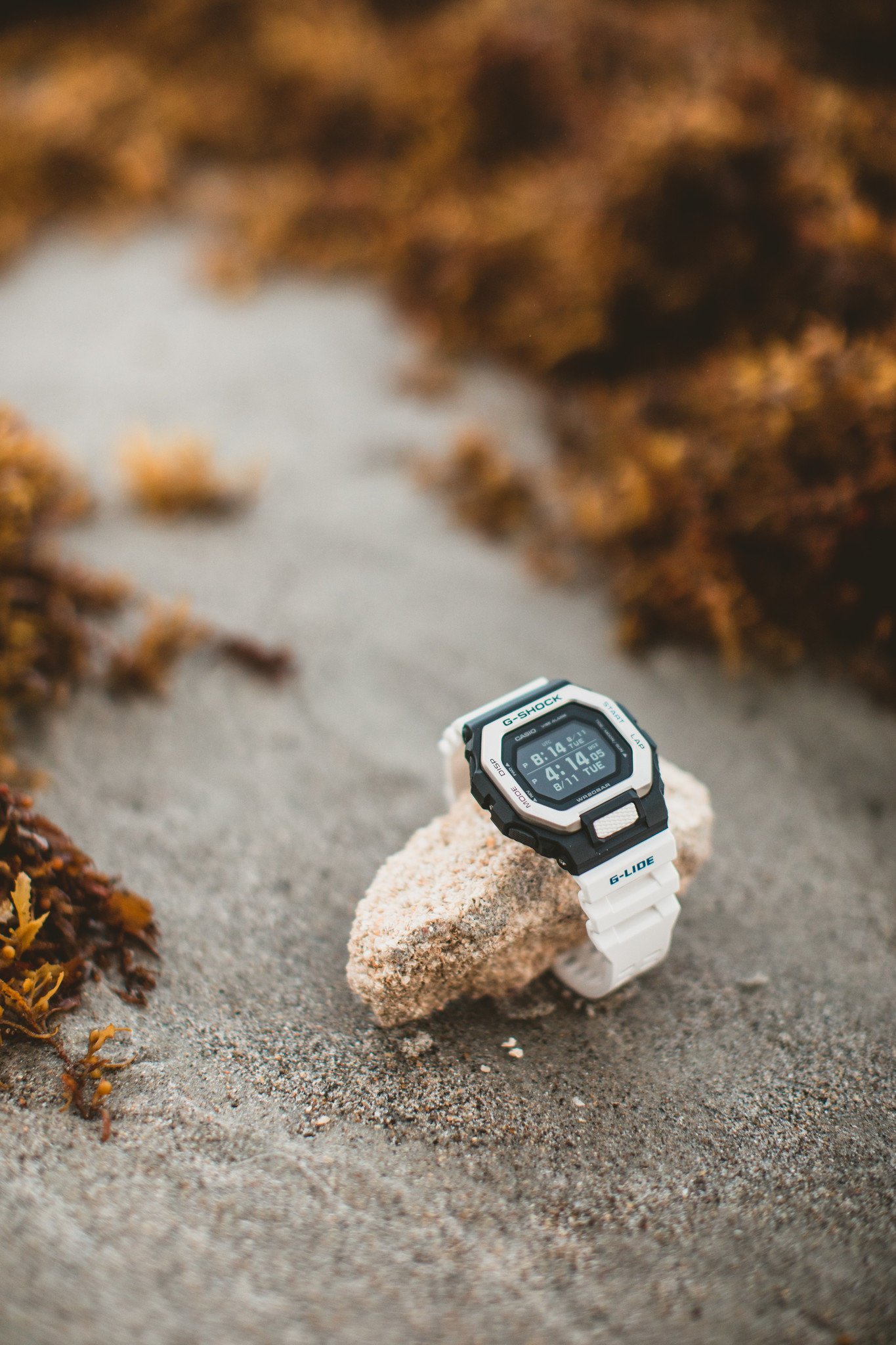 This new colors in the GBX100 G-lide series is a great value for the features it offers, coming in at a cool $160 US. Seeing as this features bluetooth and app connections, I could foresee new app updates bringing new features to this model in the not so distant future.